Ashgabat, Turkmenistan – From November 11-14th, senior government officials from the United States, Turkmenistan, Afghanistan, Kazakhstan, Kyrgyzstan, Tajikistan, and Uzbekistan are meeting for the 8th United States-Central Asia Trade and Investment Framework Agreement (TIFA) Council Meeting. This is the second consecutive year that the TIFA Council – the key vehicle for trade and investment discussions between the United States and the countries of the region – has met in Central Asia, demonstrating the commitment of all Parties to the goals of the TIFA.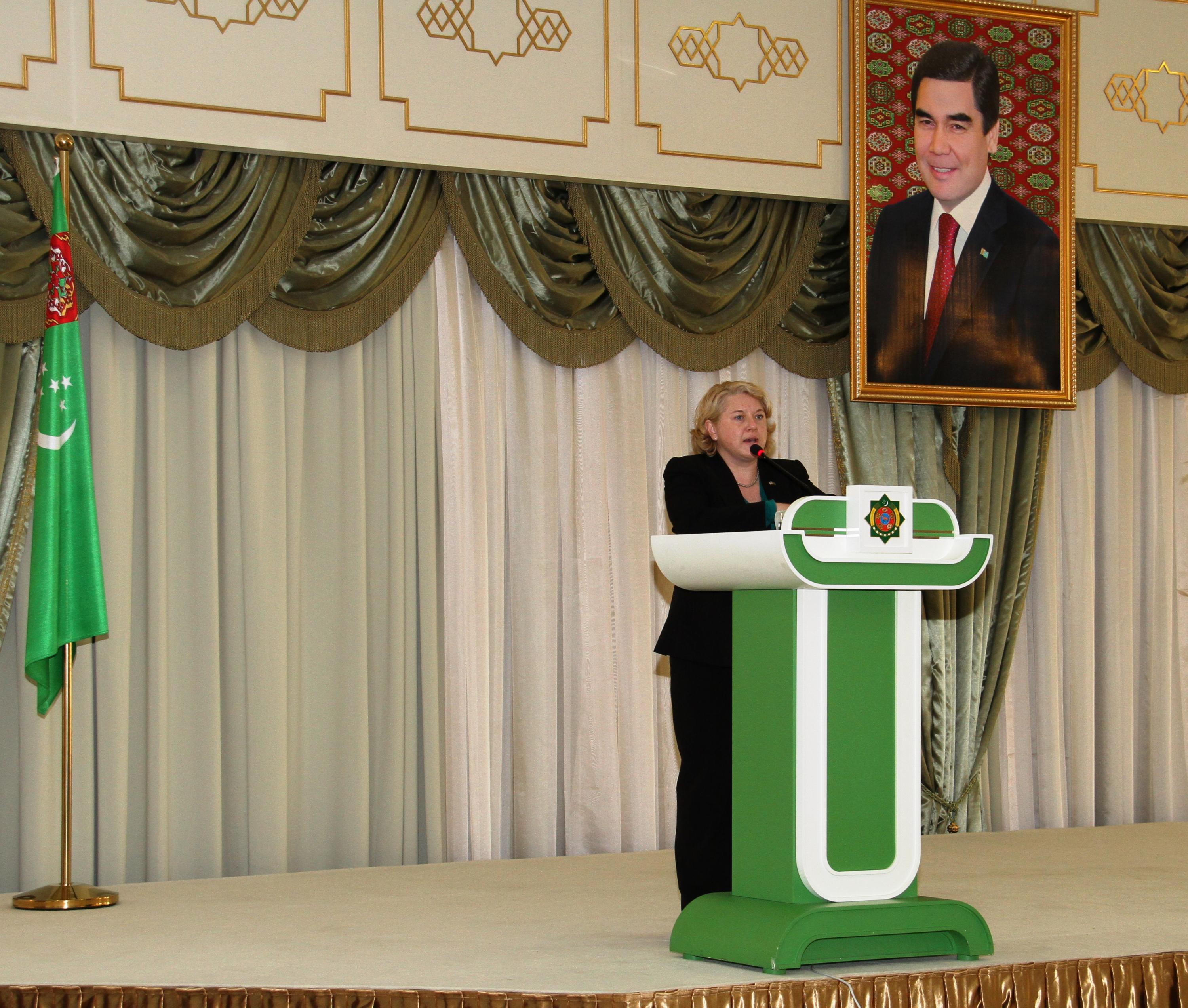 Deputy Assistant U.S. Trade Representative Mara Burr speaks at the opening ceremony of the U.S.-Central Asia TIFA Council Meeting
Deputy Assistant United States Trade Representative for Central and South Asia Mara Burr will lead the U.S. delegation, which includes interagency representatives from the U.S. Trade Representative, the Department of State, Department of Commerce Commercial Law Development Program, the Department of Defense and the Defense Logistics Agency.  A U.S. business delegation organized by the U.S. – Turkmenistan Business Council will hold concurrent meetings on business opportunities in the region and will provide advice to the TIFA meetings on real time trade policy impediments to trade and investment.
The U.S. – Central Asia Trade and Investment Framework Agreement (TIFA) was signed in 2004 with the governments of Kazakhstan, the Kyrgyz Republic, Tajikistan, Turkmenistan and Uzbekistan, and provides a strategic framework and guiding principles for dialogue on trade and investment issues between the parties. Afghanistan is an observer to the agreement, allowing the parties to discuss how facilitating regional trade and export logistics can help spur economic development in Afghanistan, and provide trade and investment opportunities across the region. For more information on the U.S.-Central Asia Trade and Investment Framework Agreement, click here.