This morning, Acting Deputy U.S. Trade Representative Wendy Cutler spoke at a Peterson Institute for International Economics conference entitled "Abenomics:  From Macroeconomic to Structural Reform – Japan's progress and America's interest."  The conference gathered government officials, academics, and private sector representatives to discuss key changes in Japan's economic policy, and Acting Deputy USTR Cutler highlighted how the Abenomics' trade agenda and Trans-Pacific Partnership (TPP) create synergies that advance economic growth.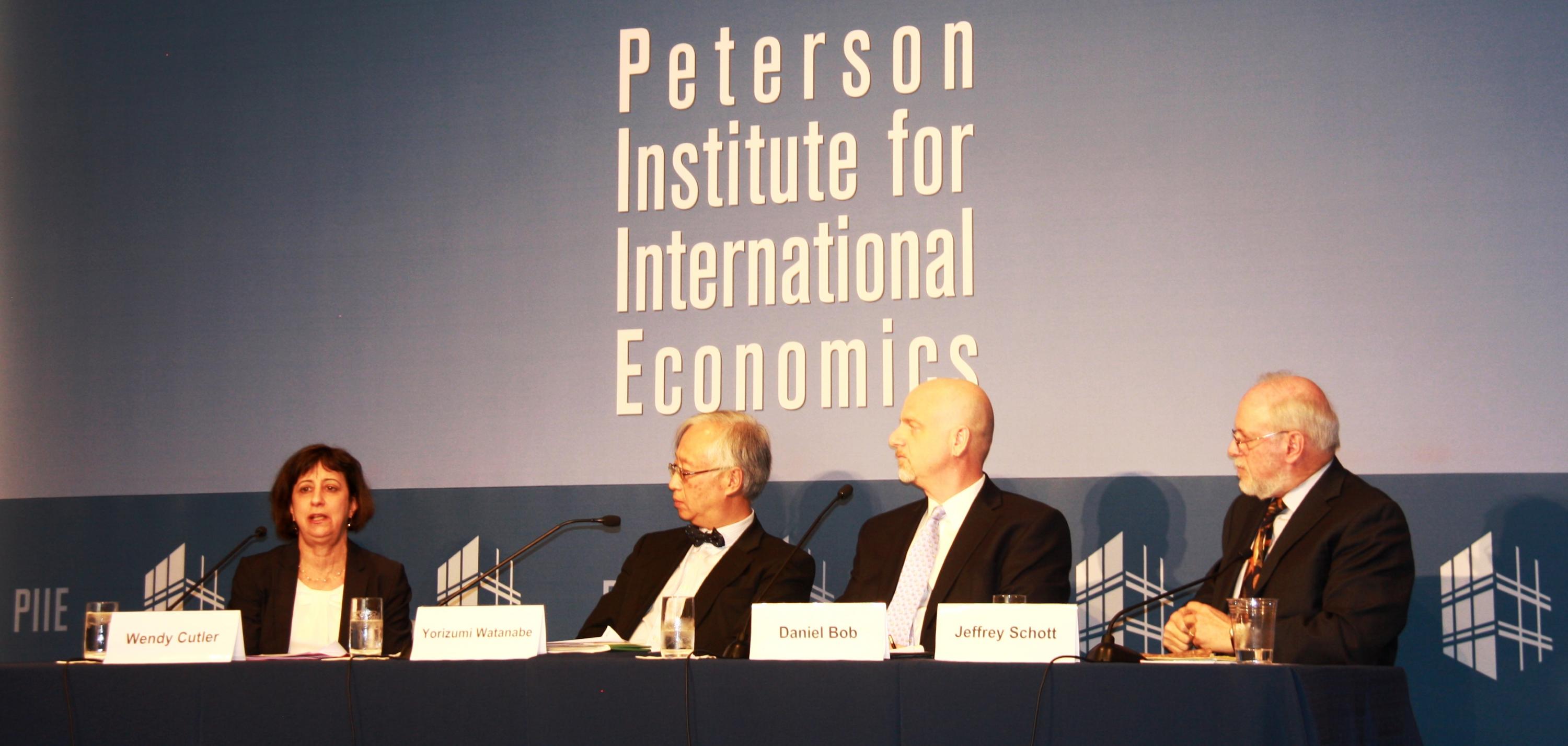 Acting Deputy U.S. Trade Representative Wendy Cutler speaks on a panel at the Peterson Institute for International Economics 
Deputy Cutler noted Japan's entry to the Trans-Pacific Partnership negotiations in July as a significant milestone that dramatically raised the economic importance of the agreement.  Japan, she said, has demonstrated impressive commitment to the negotiations and has been a close partner on a range of issues. The most challenging issues, Deputy Cutler said, have been in the parallel negotiations, involving motor vehicles and other non-tariff measures, and market access for industrial and agricultural goods.   Although Japan may have certain sensitivities with regard to market access, she said, all TPP countries will have to make difficult decisions in order to achieve an ambitious and comprehensive outcome.  While there are also challenges in the parallel negotiations, Deputy Cutler observed that there is tremendous synergy between what Japan is doing through Abenomics and what is being discussed in the parallel negotiations.  Commenting on the TPP negotiations more broadly, Deputy Cutler confirmed that negotiations are in the end game.  "While there are still tough issues to address, the toughest issues in trade negotiations are always left to the end," she said.
The TPP, which is the foundation of the Obama Administration's economic policy in the Asia-Pacific Region, looks to bring together twelve advanced and emerging economies to create a free-trade zone encompassing a third of global trade and 40 percent of global GDP.  The TPP promotes regional integration by establishing a common set of trade and investment commitments, and also addresses 21st century issues like state-owned enterprises, intellectual property rights, regulatory convergence, and global supply chains.  To learn more about the TPP, click here.