You are here
Environmental Groups Support Efforts to Achieve Strong Outcomes for the Environment in the Trans-Pacific Partnership Negotiations
11/19/2013
Washington, D.C.- At an event hosted by the World Wildlife Fund (WWF) today, environmental groups underscored their support for U.S. efforts to achieve strong outcomes for the environment, including groundbreaking conservation measures, in the 12-country Trans-Pacific Partnership negotiations. With guidance from environmental groups both on and off the government's formal advisory committees, U.S. negotiators are seeking an environmental chapter that facilitates increased regional trade while supporting and enhancing existing conservation efforts in the Asia-Pacific region.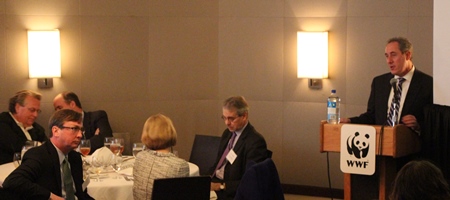 Ambassador Froman speaks at the World Wildlife Fund on the Trans-Pacific Partnership and the environment
"Over the past decades, the United States has been a pioneer in leveraging comprehensive trade agreements to promote and enhance environmental protection on the ground in our partner countries. The United States views the TPP as an opportunity to build on our existing relationships by targeting some of most pressing regional environmental challenges, such as conserving wildlife and forests, and protecting our oceans and marine resources," said Ambassador Froman.
In addition to core, enforceable commitments on trade-related issues that would help to reinforce environmental protection, the United States is also advancing new proposals to tackle illegal wildlife and timber trade.