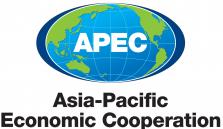 Comprised of 21 "member economies," the APEC forum operates on the basis of non-binding commitments. APEC economies include the United States; Australia; Brunei; Canada; Chile; China; Hong Kong, China; Indonesia; Japan; Korea; Malaysia; Mexico; New Zealand; Papua New Guinea; Peru; Philippines; Russia; Singapore; Chinese Taipei; Thailand; and Vietnam
Key to achieving APEC's vision are what are referred to as the "Bogor Goals," APEC's foundational goals of free and open trade and investment in the Asia-Pacific. These goals were adopted by Leaders at their 1994 meeting in Bogor, Indonesia.
Advancing Free, Fair, and Reciprocal Trade through APEC
USTR represents the United States on critical trade and investment initiatives at APEC, with the goal of delivering for U.S. exporters concrete and meaningful results that break down barriers to trade in the Asia-Pacific, create jobs, and contribute to economic growth.