United States, Morocco Sign Bilateral Trade Facilitation Agreement
Washington, D.C. – U.S. Trade Representative Michael Froman and Moroccan Minister of Economy and Finance Mohamed Boussaid today signed a Trade Facilitation Agreement that represents a forward-leaning, 21st century agreement on modernizing customs practices. The agreement, which builds on the United States-Morocco Free Trade Agreement (FTA), includes provisions covering internet publication, transit, transparency with respect to penalties, and other issues that will further boost Morocco's competitiveness and benefit its trade environment.  Morocco is the first country in the region to conclude a bilateral trade facilitation agreement, as well as to endorse joint principles on investment and information communication technology services trade with the United States. These important initiatives reflect our common commitment to building stronger economic ties with and among the region.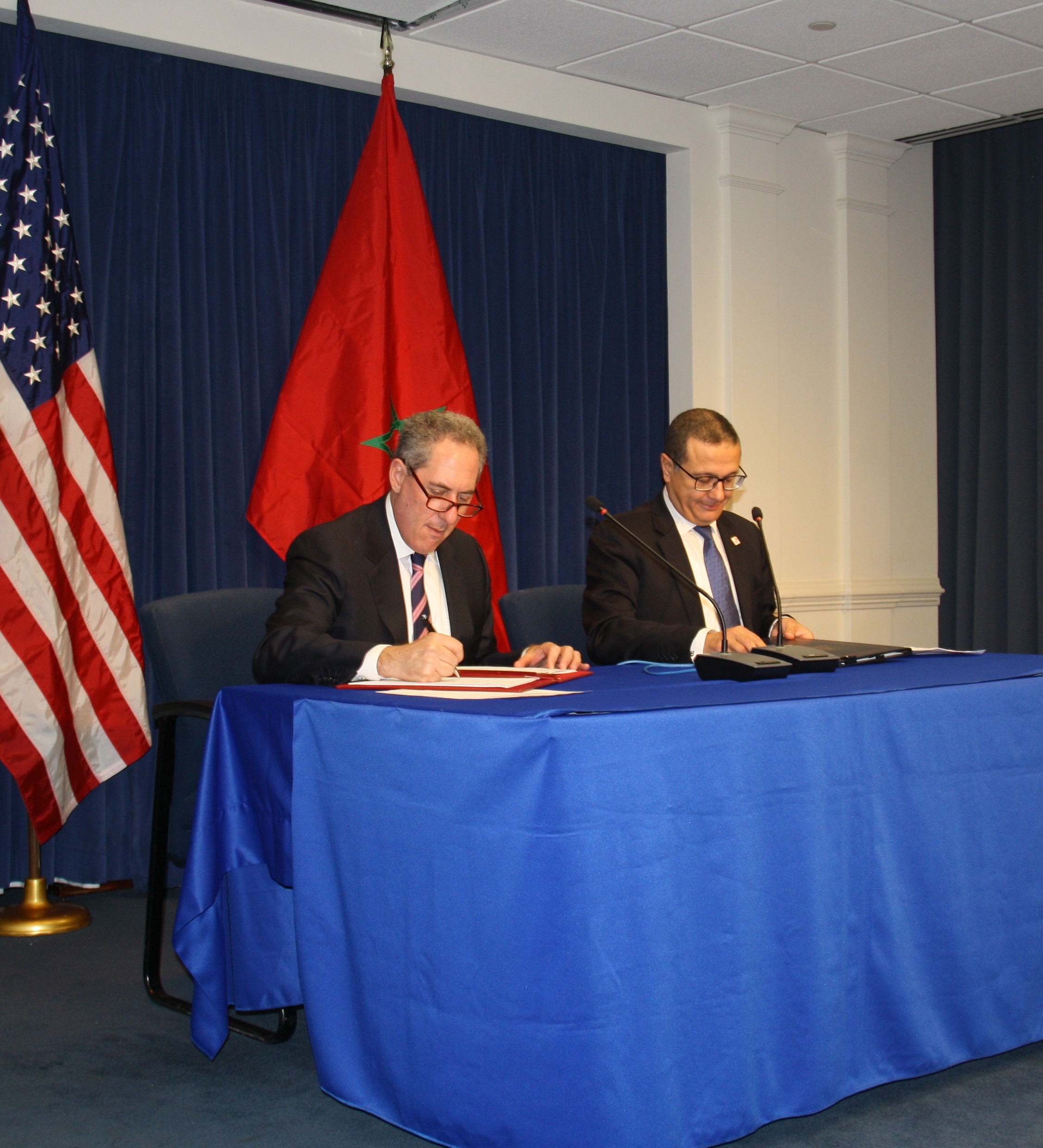 Ambassador Froman and Moroccan Minister of Economy and Finance Mohamed Boussaid sign the U.S.-Morocco Trade Facilitation Agreement
"Morocco has a strong commitment to continuing its efforts to build a modern economy for the 21st century" Ambassador Froman said. "This agreement will make doing business both easier and more transparent for both American and Moroccan companies."
Ambassador Froman and Moroccan Minister of Industry, Trade, Investment and the Digital Economy Moulay Hafid Elalamy also pledged today to advance future work under a bilateral action plan aimed at supporting job creation by increasing trade and investment opportunities.
The U.S.-Moroccan economic relationship has grown significantly since our bilateral FTA entered into force in 2006.  Overall trade between the United States and Morocco has increased more than 300 percent, with U.S. exports up more than 350 percent and Moroccan exports to the United States more than doubling.  U.S. foreign direct investment (FDI) in Morocco has quadrupled over the same period, amounting to $613 million in stock investment in 2012.
To view a copy of the U.S.-Morocco Trade Facilitation Agreement in English, please click here.
To view a copy of the U.S.-Morocco Trade Facilitiation Agreement in Arabic, please click here.
2013 Special 301 Out-of-Cycle Review of Notorious Markets
ITEC Frequently Asked Questions
Q: When was the Interagency Trade Enforcement Center (ITEC) established?
A: On February 28, 2012, the President signed Executive Order 13601 establishing ITEC to enhance enforcement of U.S. trade rights and domestic trade laws.
Q: What is ITEC's mission?
A: ITEC is charged with fighting for American workers, farmers, ranchers, and businesses by bringing a more aggressive "whole-of-government" approach to addressing unfair trade practices around the world. ITEC will be supported by the Departments of Agriculture, Homeland Security, Justice, State, and the Treasury, as well as the intelligence community. The personnel from these agencies will enhance U.S. trade enforcement capabilities and facilitate increased engagement with foreign trade partners at the World Trade Organization (WTO) and elsewhere through the creation of an expanded team of language-proficient researchers, subject matter experts, and economic analysts. ITEC is designed to help leverage and mobilize resources and expertise across the federal government to develop trade enforcement actions that will address unfair foreign trade practices and barriers that could otherwise imperil our nation's export promotion and job recovery efforts.
Q: How is ITEC different from existing trade enforcement programs?
A: ITEC is unique in that it constitutes a more dedicated "whole-of-government" approach to addressing unfair trade practices and trade barriers. This new approach will provide a primary forum within the federal government to bring together experts from executive departments and agencies to coordinate trade enforcement. ITEC will permit a sustained focus on particular issues not possible previously.
Q: Doesn't the U.S. government already have the capacity to address unfair trade practices and trade barriers?
A: A priority of the Administration is to better leverage the government's trade enforcement activities by focusing its existing resources to address unfair trade practices and foreign trade barriers more effectively. ITEC will link, leverage and align both existing and new resources more efficiently across the executive branch and with stakeholders. The key here is efficiency. ITEC's goal is to build upon existing capacity to give U.S. companies, workers and producers every chance to compete on a level playing field in today's global marketplace.
Q: How many people will be working at ITEC at any given time?
A: By October 2012, ITEC had more than a dozen full-time and part-time staff and that number should increase substantially by the end of FY13. These figures are subject to change as issues, priorities and available funding change.
Q: How do you determine the issues for priority attention and action?
A: The Director and Deputy Director, along with the various offices within USTR, and in cooperation with other agencies will examine various trade issues and will establish priority projects for investigation. As is currently the case, a variety of factors will be taken into account in setting those priorities, including economic impact of the issue, systemic impact of resolution on international trading practices, ability to document and demonstrate the problem, available resources, and broad trade goals.
Q: Is ITEC's purpose to bring more trade remedies and WTO cases against Chinese products?
A: ITEC's purpose is to help ensure that all of our trading partners play by WTO rules and abide by their obligations, including commitments to maintain open markets on a non-discriminatory basis, and to follow rules-based procedures in a transparent way.
Q: What countries will ITEC be working on?
A: ITEC will be addressing trade enforcement issues originating in a variety of regions across the globe. It is USTR policy not to discuss publicly cases that it is developing to avoid giving advance notice to governments overseas.
Q: What will the role of ITEC be in administering domestic trade laws?
A: The Department of Commerce has statutory responsibility for administration of the antidumping and countervailing duty (AD/CVD) laws and will continue to administer them. The International Trade Commission (ITC) will continue to make injury determinations with regard to all AD/CVD investigations and sunset reviews. ITEC was not intended to duplicate the efforts that are assigned by statute to particular agencies. ITEC will be looking for areas where it can add value to the work already being done.
Q: What will the role of ITEC be in dealing with circumvention of antidumping and countervailing duty orders?
A: Import Administration's Customs Unit and U.S. Customs and Border Protection will continue to take the lead on issues related to circumvention of antidumping and countervailing duty orders. Deliberate evasion of AD/CVD duties by providing false information in a customs declaration constitutes customs fraud, and is a breach of U.S. law, punishable by fine or imprisonment. In addition, the National Intellectual Property Rights Coordination Center (NIPRCC) plans to step up enforcement of commercial fraud laws related to evasion of antidumping and countervailing duties.
Q: Will ITEC be involved in "self-initiation" of antidumping or countervailing duty cases?
A: Antidumping and countervailing duty investigations may be initiated as the result of a petition filed by a domestic interested party or at the Secretary of Commerce's own initiative. Self-initiation of such investigations has been a very rare occurrence. However, should the Secretary of Commerce request ITEC assistance in such a self-initiation, ITEC will provide support as appropriate.
Q: How will ITEC engage with the NIPRCC and the Intellectual Property Enforcement Coordinator (IPEC)?
A: The NIPRCC's focus is on the law enforcement response to IPR theft, primarily coordinating investigation and prosecution of IPR infringers under the criminal laws of the United States. The NIPRCC also is a key participant in international cooperation on criminal enforcement activities involving various other partner governments and international police organizations such as Interpol and Europol. ITEC's focus is enforcement of U.S. rights under trade agreements across a wide set of issues – including intellectual property. ITEC has and will continue to coordinate with the NIPRCC and the IPEC.
Q: Will ITEC serve a rapid response function, including with respect to identifying subsidies in overseas markets?
A: ITEC will be focusing on enforcement of U.S. rights under trade agreements which require some time to investigate, develop, and coordinate. However, to the extent ITEC becomes aware of issues requiring a rapid response through its monitoring or outreach functions, it will bring such issues to the attention of that part of USTR or another agency best positioned to take more immediate action.
Q: How will ITEC help small and medium-sized enterprises? What is the difference between what ITEC does and what the Trade Compliance Center at the Department of Commerce does?
A: Small and medium-sized enterprises (SMEs) are encouraged to continue to report their specific market access problems to the Trade Compliance Center (TCC) at the Department of Commerce. If the TCC is unable to resolve an issue, especially when it has noted a trend, the TCC will report the problem to ITEC. By leveraging the expertise of the TCC, ITEC will have a head start on dealing with trade issues that are affecting SMEs. Small and medium-sized enterprises may also work through their associations to bring industry-wide problems to the attention of ITEC.
Q: How will ITEC interact with other parts of USTR that may already be engaged in working on an issue of concern to certain companies or industries?
A: ITEC is in close contact with the various offices within USTR. USTR sector experts and negotiators are aware of ITEC activities and vice versa to ensure full coordination. Parties which have been working closely with USTR offices on issues of concern should continue to do so.
Q: What role will ITEC play in section 301 cases?
A: Interested persons may file petitions with USTR under section 301 of the Trade Act. Depending on the nature of the petition, ITEC may be involved in doing additional research during the 301 investigation phase. It is important to note that, although USTR can initiate a section 301 investigation itself, USTR does not need to do so in order to initiate WTO dispute settlement action. With regard to the majority of WTO dispute settlement actions, we anticipate that ITEC will be doing some of the same types of research that outside parties would typically do themselves in order to file a 301 petition.
Q: What role will ITEC play in section 201 cases?
A: Section 201 investigations will continue to be carried out by the International Trade Commission, which has statutory responsibility for implementing this section of U.S. trade law. Although it is a historically rare occurrence, the President or USTR can request the ITC to conduct a section 201 investigation. ITEC may have a role in providing information that can be used to inform the decision as to whether the President or USTR should make such a request.
Q: Will ITEC monitor the new free trade agreements to ensure that trading partners are not erecting new non-tariff barriers that would limit the benefits U.S. companies are supposed to gain from the agreements?
A: While ITEC will monitor certain issues, it does not have the staff to monitor every aspect of every FTA. ITEC continues to work with other offices within USTR to ensure compliance with FTAs and will continue to request that industry and companies bring problems to ITEC's attention.
Key facts of the U.S.-Panama Trade Promotion Agreement
Hello
The U.S. –Panama Trade Promotion Agreement (the "Agreement") will support American jobs, expand markets and enhance U.S. competitiveness.
Panama is one of the fastest growing economies in Latin America, expanding 10.6 percent in 2011, with annual growth forecast between 5 and 8 percent through 2017. This comprehensive Agreement will eliminate tariffs and other barriers to U.S. exports, promote economic growth, and expand trade between our two countries.

The Agreement guarantees access to Panama's nearly $22 billion services market, including in priority areas such as financial, telecommunications, computer, distribution, express delivery, energy, environmental, and professional services.

Panama's strategic location as a major shipping route also enhances the importance of the Agreement. Approximately two-thirds of the Panama Canal's annual transits are bound to or from U.S. ports.
The Agreement will remove barriers to U.S. goods entering Panama's market.
U.S. industrial goods currently face an average tariff of 7 percent in Panama, with some tariffs as high as 81 percent. U.S. agricultural goods face an average tariff of 15 percent, with some tariffs as high as 260 percent.

Over 86 percent of U.S. exports of consumer and industrial products to Panama will become duty-free immediately, with remaining tariffs phased out over ten years. U.S. products that will gain immediate duty-free access include information technology equipment, agricultural and construction equipment, aircraft and parts, medical and scientific equipment, environmental products, pharmaceuticals, fertilizers, and agro-chemicals.

U.S. agricultural exports will also benefit. Nearly half of current trade will receive immediate duty-free treatment, with most of the remaining tariffs to be eliminated within 15 years. Panama will immediately eliminate duties on high-quality beef, frozen turkeys, soybeans, soybean meal, crude soybean and corn oil, almost all fruit and fruit products, wheat, peanuts, whey, cotton, and many processed products. The Agreement also provides duty-free access for specified volumes of standard grade beef cuts, chicken leg quarters, pork, corn, rice, and dairy products through tariff rate quotas.
The Agreement is key to maintaining U.S. market share in this important market.
The United States faces strong competition as Panama's other trading partners increase their share of Panama's total imports.

In 2010, Panama finalized a trade agreement with Canada, which has not yet entered into force. Many Canadian goods and services directly compete with those of the United States in Panama. U.S. products, such as pork and frozen french fries, will be at a significant competitive disadvantage if they continue to face duties while Canadian products enjoy preferential access.

The European Union (EU) has negotiated an Association Agreement with the Central American countries, including Panama, which was initialed on March 22, 2011, which has not yet entered into force. Machinery and transportation equipment, chemicals and metals are the leading exports from the EU to Panama.
The Agreement provides significant infrastructure opportunities.
In addition to the ongoing $5.25 billion Panama Canal expansion project, the Government of Panama has identified almost $10 billion in other significant infrastructure projects.

Construction equipment and infrastructure machinery used in such projects accounted for $335 million in U.S. exports to Panama in 2011. Tariffs for this sector average 5 percent with almost all being eliminated upon entry into force.
Other benefits of the Agreement Include:
A Level Playing Field for U.S. Investors: The Agreement ensures that U.S. companies in Panama are protected against discriminatory or unlawful treatment, and provides a neutral and transparent mechanism for settlement of investment disputes.
Greater Protection for Intellectual Property Rights: The Agreement provides for improved standards for the protection and enforcement of a broad range of intellectual property rights, which are consistent with both U.S. standards of protection and enforcement, and with the standards increasingly embraced by our trading partners. Such improvements include state-of-the-art protections for digital products such as software, music, text, and videos and stronger protections for patents, trademarks and test data, including an electronic system for the registration and maintenance of trademarks.
Commitments to Protect Labor Rights and the Environment: The Agreement commits both Parties to adopt and maintain in their laws and practice the five fundamental labor rights as stated in the 1998 ILO Declaration on Fundamental Principles and Rights at Work. Both Parties are also required to effectively enforce – and may not waive – labor laws related to fundamental labor rights. Both Parties also commit to effectively enforce their own domestic environmental laws and adopt, maintain, and implement laws, regulations, and all other measures to fulfill their obligations under covered multilateral environmental agreements. All obligations in the labor chapter and the environment chapter are subject to the same dispute settlement procedures and enforcement mechanisms as the Agreement's commercial obligations.
Fair and Open Government Procurement: Under the Agreement, U.S. suppliers are granted rights to non-discriminatory treatment in bidding on procurement by a broad range of Panamanian government ministries, agencies, regional governments, and public enterprises. For procurement covered by the Agreement, it requires the use of fair and transparent procurement procedures, such as advance notice of purchases and timely and effective bid review procedures.
An Open and Competitive Telecommunications Market: Panama has agreed to a pro-competitive regulatory framework that builds upon the WTO Basic Telecommunications Reference Paper and guarantees competitive access to Panamanian telecom networks on reasonable and non-discriminatory terms. U.S. telecommunications companies are ensured the right to interconnect with Panamanian dominant carriers' fixed networks at non-discriminatory and cost-based rates.
New Opportunities for Agriculture: This agreement creates new opportunities for U.S. farmers, ranchers, workers, and food processors seeking to export to Panama, one of the fastest growing economies in Latin America. This comprehensive Agreement will eliminate tariffs and other barriers to U.S. exports, promote economic growth, and expand trade between our two countries.
More Manufacturing Exports to Panama: The U.S.-Panama Trade Promotion Agreement creates new opportunities for U.S. manufacturers seeking to export to Panama, giving American manufacturers more market access in two ways: (1) by eliminating tariffs, or duties, charged when U.S. exports come into Panama, and (2) by laying out a framework to address other barriers to U.S. exports – including those that may arise in the future.
Increased Textile Access for U.S. Apparel: This agreement opens new market access opportunities for U.S. textiles and apparel manufacturers and strengthens customs enforcement mechanisms to verify claims of origin and deny illegal customs circumvention. Upon entry into force of the Agreement, tariffs on U.S. textiles and apparel entering Panama that meet the Agreement's rules of origin are eliminated.
A Growing Service Market: Panama has a large and growing services market. Services account for roughly 77 percent of Panama's $27 billion economy. Leading sectors include banking and insurance, health care, logistics and transportation services.
Financial Services Benefits: The financial services chapter in this agreement provides extensive market access into Panama for American financial services firms – supplementing and modifying the Agreement's rules on investment and services without undermining the right of U.S. financial regulators to take action to ensure the integrity and stability of financial markets or address a financial crisis. Importantly, Panama commits to treat U.S. financial institutions comparably to their competitors in the Panamanian market.
Key facts of the U.S.-Panama Trade Promotion Agreement