Washington, D.C. − U.S. Trade Representative Michael Froman announced today that the United States has launched a new trade enforcement action against the People's Republic of China at the World Trade Organization (WTO) concerning China's export duties on nine different raw materials.  When China joined the WTO, China agreed to eliminate its export duties on these products, but it has failed to follow through on this commitment.  Today's action is the 13th trade enforcement case the Obama Administration has launched against China at the WTO – more than any other WTO country over the same period.  The U.S. has won every case that has been decided so far.
The export duties China imposes provide substantial competitive advantages for Chinese manufacturers by making them more expensive for U.S. manufacturers that rely on these raw materials to produce their downstream goods.  These nine raw materials – antimony, cobalt, copper, graphite, lead, magnesia, talc, tantalum, and tin – are key inputs into high-value Made-in-America products in vital industrial sectors, including aerospace, automotive, electronics, and chemicals.  China's export duties provide an unfair competitive advantage to China at the expense of American workers and manufacturers.
Later today, at the Port of San Diego, Vice President Biden will deliver remarks highlighting today's trade enforcement action and the Obama-Biden Administration's aggressive record on trade enforcement.
"It all comes down to fair competition—a notion that is fundamental to who we are as Americans," Vice President Biden will say in his remarks. "And one of the most important ways we have done that is by enforcing our trade laws—more aggressively than any previous Administration in history. Because here's what I know—given a level playing field, American businesses and American workers will out-compete anyone. Period."
 "These duties are China's attempt to game the system so that raw materials are cheaper for their manufacturers and more expensive for ours," said Ambassador Froman. "This scheme is directly at odds with WTO commitments China has made, and as we've shown time and again, we will hold them accountable to their commitments. This case is part of the Administration's continuing work to level playing field for American workers and manufacturers in order to grow our economy and support quality jobs here at home."
"It is the responsibility of the United States to lead the way in fighting for fair trade standards. Today's action against China is a step in the right direction towards creating a more level playing field for American workers, farmers, and businesses," said Congressman Ron Kind (WI-03).
"I applaud today's trade enforcement action – which is exactly the type of action I had in mind when I helped push for the Trade Enforcement Trust Fund last year. If countries are going to trade with the United States they need to do so under good faith and in accordance with international standards," said Congressman Rick Larsen (WA-02)
China's export duties on these raw materials, which range from 5 to 20 percent ad valorem, disadvantage U.S. producers by raising the prices of these raw materials for downstream manufacturers outside of China, while lowering the prices paid by China's manufacturers that use these same raw materials.  These Chinese manufacturers are able to manufacture lower-priced goods using these unfairly priced raw materials, creating an uneven playing field for U.S. competitors.  In this way, China's export duties create pressures on U.S. and other non-Chinese producers to shift production operations, technologies, and jobs to China. 
Today's action continues the Administration's strong record of enforcing U.S. rights under our trade agreements.  Since 2009, the Administration has brought 22 enforcement actions (including this one) at the WTO, and won every single one decided thus far.  Since 2015, USTR has announced the following enforcement victories:
BACKGROUND
The United States is challenging the export duties on 21 tariff lines relating to 9 raw materials: antimony, cobalt, copper, graphite, lead, magnesia, talc, tantalum, and tin.  These duties range from 5 to 20 percent ad valorem.  Downstream products potentially affected by this challenge include: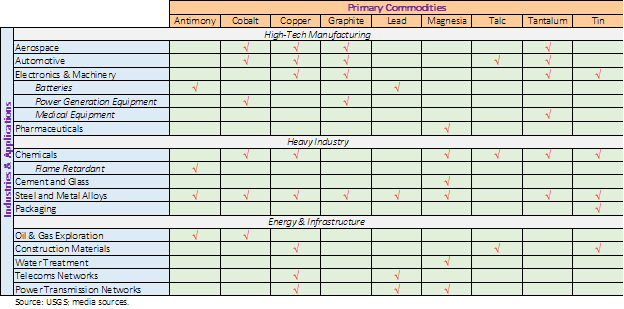 China committed as part of the terms of its WTO accession to eliminate export duties for all products other than those listed in a specific annex.  The export duties the United States is challenging are imposed on products not listed in that annex. 
In two previous WTO disputes (China – Measures Related to the Exportation of Various Raw Materials and China – Measures Relating to the Exportation of Rare Earths, Tungsten, and Molybdenum), the WTO confirmed that China is obligated to eliminate export duties on any products other than those listed in the annex.  The WTO also found that China cannot seek to justify imposing such export duties through the exceptions listed in Article XX of the GATT 1994.  Through this new WTO action, the United States seeks to extend and reinforce the important victories obtained by the United States in those two previous WTO challenges.  
Consultations are the first step in the WTO dispute settlement process.  If the United States and China are not able to reach a mutually agreed solution through consultations, the United States may request that the WTO establish a dispute settlement panel to examine the matter.
See a copy of the consultation request letter here.