The United States and Tunisia continue to make important progress on the small and medium enterprise (SME) initiative announced by USTR, USAID and the Government of Tunisia last May. The initiative is aimed at strengthening the SME sector and expanding trade opportunities under the U.S. –Tunisia Trade and Investment Framework Agreement (TIFA).
In a milestone achievement, nearly 60 participants from the Tunisian government, academia, business, and the NGO community completed certification training in the U.S. Small Business Development Center (SBDC) model, through the program funded by USAID and implemented by the International Executive Service Corps and the University of Texas San Antonio Small Business Development Center. In the United States, SBDCs provide a wide range of business counseling services and trade training to SMEs at centers throughout the country. With a graduation ceremony marking the successful completion of training for its SME experts, Tunisia has now announced the launch of four pilot centers patterned on the SBDC model for 2014, including two government-supported Centres d' Affaires (business centers) and two private university-NGO partnered centers. Next year, the Tunisian SBDCs will be linked via an online platform to U.S. SBDCs to create greater opportunities for trade among small businesses on both sides.
Tunisia is the first country participating in the Administration's Middle East and North Africa Trade and Investment Partnership (MENA TIP) to adapt the model to local needs and conditions, in order to promote development and inclusive growth in the SME sector. Strengthening economic growth and integration with the United States can help promote political and economic reforms in the region.
U.S. and Tunisian participants celebrate at a graduation ceremony.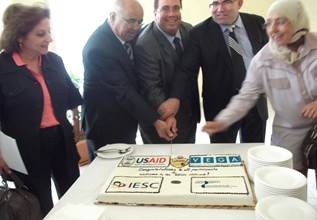 From left to right:
Mme. Raoudha Ben Sabeur, President of Women Heads of Businesses (CNFCE), Mr. Ben Abid (Ministry of Industry),
Mr. Cliff Parades (UTSA), Mr. Hichem Hlioui (ISLAIN/University), Mme. Haddar (Ministry of Commerce)