Lima, Peru – This week, the United States and Peru co-hosted two one-day workshops entitled "Best Practices in the Standardization and Regulation Experiences in the United States and Peru," in Lima and Arequipa on August 6 and 8, respectively. The workshops were designed to promote transparent, predictable, and effective regulatory practices that will encourage enhanced bilateral trade and investment between the two countries. . 
As regulatory issues increasingly create hurdles for companies engaged in international trade, the workshops focused principally on two elements of Standardization and Regulation Experiences – participation in international standards development processes and involvement in the regulatory development system – and reviewed the practices of both countries. The Office of the United States Trade Representative (USTR), and, Peru's Ministry of Foreign Trade and Tourism organized the two one-day events with assistance from USAID, Peru's National Institute for the Defense of Competition and the Protection of Intellectual Property (INDECOPI), and the Arequipa Chamber of Commerce, which hosted the Arequipa workshop.
During the workshops, participants shared information on effective regulatory practices developed by international and regional organizations, including the World Trade Organization (WTO), the Andean Community (CAN), and the Organization for Economic Co-operation and Development (OECD). Participants in the workshops also reviewed case studies on textiles standards, regulatory impact assessments and stakeholder inputs, among others. Opportunities for future cooperation were also discussed, including planned engagements in Peru on metrology (August 29) and conformity assessment (September 9-10). Additionally, Peruvian trade and regulatory officials will conduct an orientation visit to Washington, D.C. in late September.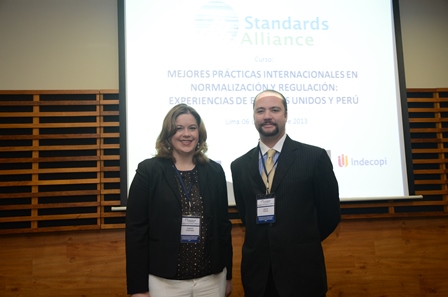 Jennifer Stradtman from the USTR Office of WTO and Multilateral Affairs with Peruvian Vice Minister of Trade Carlos Posada
The workshops featured strong participation from both U.S. and Peruvian government officials, as well as private sector stakeholders from both countries, reflecting the critical importance of public-private partnerships in effecting Best Practices in Standardization and Regulation. The U.S. government was represented by officials from USTR, as well as the Office of Management and Budget and the Department of Commerce's International Trade Administration and the Federal Trade Commission. 
The Conference on Best Practices in the Standardization and Regulation Experiences in the United States and Peru is the first programming conducted for Peru as a part of the WTO Standards Alliance program, which USTR and USAID launched in November 2012 to help build capacity among developing countries to improve implementation of WTO Technical Barriers to Trade Agreement. The American National Standards Institute (ANSI) and USAID recently agreed to collaborate on a new, multi-year public-private partnership intended to assist developing countries in effectively implementing their commitments under the TBT Agreement. This leveling of the playing field will reduce the costs and bureaucratic obstacles associated with exporting and will make American products more competitive abroad.