Africa has experienced a significant change in growth in recent years and the potential for continued growth – particularly outside the oil and gas sector – is promising. Today, while in Addis Ababa, Ethiopia for the final day of the African Growth and Opportunity Act (AGOA) Forum, United States Trade Representative Michael Froman got an up-close look at two rising sectors, with visits to dVentus Technologies and Aleta Land Coffee PLC.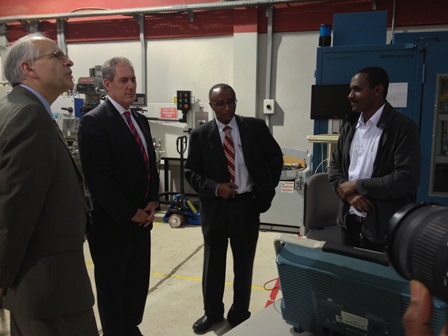 Ambassador Froman at dVentus Technologies, an Ethiopian-American renewable energy company in Addis Ababa.
Michigan-based dVentus Technologies engineers renewable energy technologies in Ethiopia - including smart meters and wind turbines – that can help to realize President Obama's Power Africa initiative to double electricity in sub-Saharan Africa by 2030. Ambassador Froman acknowledged CEO and President Daniel Gizaw's efforts to create a business that effectively links U.S. and African technology and innovation as it helps to create a cleaner and more reliable electricity system.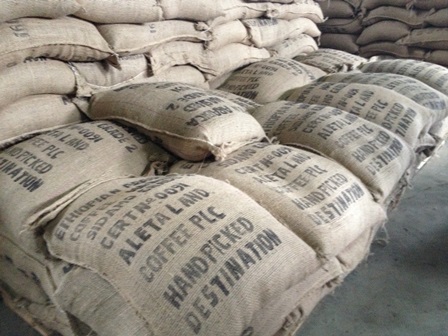 Ethiopian coffee on the way to market.
Ambassador Froman also toured Aleta Land Coffee PLC, a coffee warehouse and plant where green coffee is processed for export. In Ethiopia, the "birthplace of coffee," Ambassador Froman affirmed the strong coffee trade between the United States and Ethiopia, which is helping to employ both Ethiopian farmers and American workers in the coffee industry. He was joined on his tour by Aleta Land Coffee owner Habtamu Silla, Starbucks Director of Global Coffee Arthur Karuletwa, and Ethiopia Commodity Exchange (ECX) CEO Anteneh Assefa. The United States supported the creation of the ECX in Addis Ababa to facilitate Ethiopian exports, and is now working on a "traceability" project that will allow Ethiopian coffee to be traced to where it's grown, raising its value on the global market.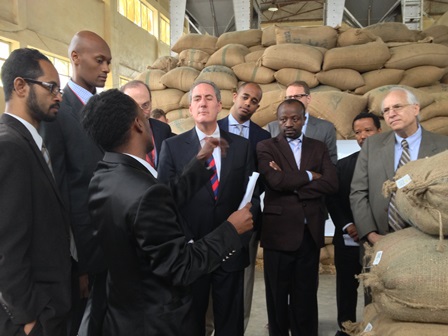 Ambassador Froman learns about new technologies for coffee "traceability" at Aleta Land Coffee in Ethiopia.
As home to some of the world's fastest growing economies, continued high level U.S. engagement with Africa on trade and investment is critical to the prosperity of both American and African businesses and workers. On his final day in Ethiopia, Ambassador Froman met with a number of AGOA ministers to talk about various bilateral trade and investment issues, and with officials of the African Development Bank Group to discuss continued cooperation on issues and initiatives including Power Africa, Trade Africa, and AGOA.
Africa is witnessing historic trends of increased growth, a rising middle class, and greater integration with the global economy. This year's AGOA Forum provided a crucial opportunity for Ambassador Froman and the entire U.S. delegation to gather with partners from civil society, businesses - including new, women-owned businesses - and governments from across the African continent to discuss how to build on AGOA and strengthen U.S.-Africa economic engagement well into the future.
For more information on AGOA and U.S.-Africa trade, visit USTR's website here.