Shea butter, clothing, and countless other African products that make their way to U.S. store shelves. American ingenuity building bridges - literally - across the African continent, with skills training for workers to boot. These are success stories of America's trade and investment relationship with Africa, all highlighted at the AGOA Forum in Addis Ababa.
After helping to open the 12th AGOA Forum and bringing a message from President Obama to the assembled government officials, private sector and civil society delegates today, Ambassador Froman formally launched a major review of AGOA, aimed at building on successes and addressing challenges with the U.S. preference program that allows substantially all goods from 39 African countries to enter the U.S. market duty-free.
Ambassador Froman then saw the best of two-way trade between the U.S. and Africa, hearing from African exporters of flowers, beauty products, specialty clothing, jewelry, and home goods just how AGOA changes lives across the continent. He also highlighted for African officials U.S. companies like Acrow Bridge, a maker of prefabricated bridges that not only sells its products in Africa but also provides skills training for African workers building infrastructure.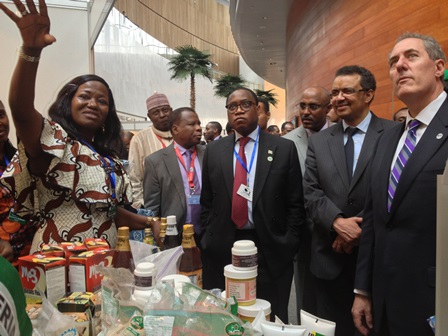 Ambassador Froman and African officials hear from an African businesswoman about diverse export products including Shea butter and cassava flour.
In meetings with Ethiopian Prime Minister Hailemariam Desalegn, Ethiopian Trade Minister Kebede Chane, and ministers from many other AGOA countries, Ambassador Froman reiterated both President Obama's commitment to a seamless renewal of AGOA beyond 2015, and that the questions the United States will ask in its review of the program are aimed at increasing African countries' utilization and benefits from this cornerstone of our economic engagement. More updates from the discussion as the AGOA Forum continues tomorrow...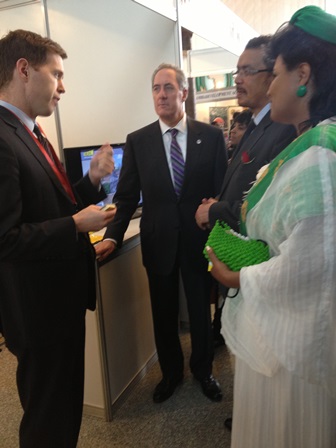 Acrow Bridge Director of International Business Development Paul Sullivan, Ambassador Froman, Ethiopian Trade Minister Kebede Chane, and the President of the Ethiopian Chamber of Commerce Mulu Solomon Bezuneh.