By Roya Stephens, Office of Public and Media Affairs
Washington, D.C. - Assistant U.S. Trade Representative for Japan, Korea and Asia-Pacific Economic Cooperation (APEC) Affairs Wendy Cutler visited the Woodrow Wilson International Center this week to speak at a panel discussion on U.S. economic cooperation with Korea and the broader Asia-Pacific region. At the event, entitled "South Korea and the U.S. Pivot to Asia," Cutler gave an overview of the important role Korea plays in the United States' engagement with the region.
The already strong U.S.-Korea economic relationship has been bolstered by recent developments like the smooth implementation of the U.S.-Korea trade agreement, also known as KORUS, which entered into force just over a year ago. Cutler served as the Chief Negotiator for the agreement and called it a core pillar of U.S.-Korea economic relations that has spurred cooperation on other fronts. For instance, the two countries have cooperated closely in APEC and have also been working together increasingly to expand trade in services through the proposed Trade in Services Agreement (TISA), which includes a diverse group of twenty-one partners.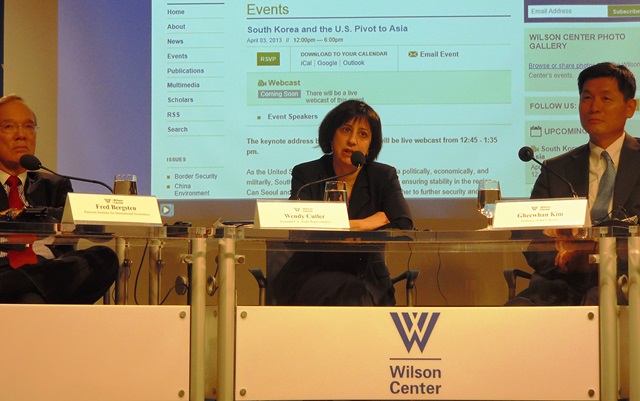 Assistant USTR Cutler speaks at the Woodrow Wilson Center.
Before concluding, Assistant USTR Cutler addressed progress being made in the Trans-Pacific Partnership (TPP) negotiations, and noted the similarities between the high standard KORUS agreement and the TPP, as well as the benefits of TPP membership. She also discussed how USTR is looking forward to working with Korea's new Park Geun-hye Administration to advance mutual economic priorities, including support for small and medium-sized businesses seeking to compete in the international market.
Last year, the U.S. and Korea shared $101 billion in total two way goods trade. The top U.S. exports to Korea were machinery, aircraft, and optical and medical instruments, while top imports from Korea were cars, electrical machinery, and mineral fuel. To learn more about U.S. engagement with Korea and the Asia-Pacific region, please click here.