Director of Environment and Natural Resources Sarah Stewart travelled to Lima, Peru last week for the sixth meeting of the Sub-Committee on Forest Sector Governance. The Sub-Committee was established under the Forest Sector Annex of the U.S.-Peru Trade Promotion Agreement's Environment Chapter. During the meeting, Sub-Committee members reviewed progress made to implement the Forest Sector Annex, including the development of a prototype for an information system that will track and verify the chain of custody for wood harvested in Peru´s forests; the adoption of laws and administrative procedures for management, supervision and issuance of permits for timber species exports covered by the Convention on International Trade in Endangered Species of Wild Fauna and Flora (CITES); and Peru's efforts to develop regulations to implement its new Forestry and Wildlife Law (in relation to the actions outlined in the Forest Sector Annex).
Stewart also participated in the third meeting of the Environmental Cooperation Commission (ECC), where members reviewed ongoing and future environmental cooperation activities that support implementation of the Forest Sector Annex. Members of the ECC also discussed activities to support the January 2013 Joint Action Plan agreed upon by both countries, which focuses on deepening ongoing cooperation with respect to the management of bigleaf mahogany and Spanish cedar.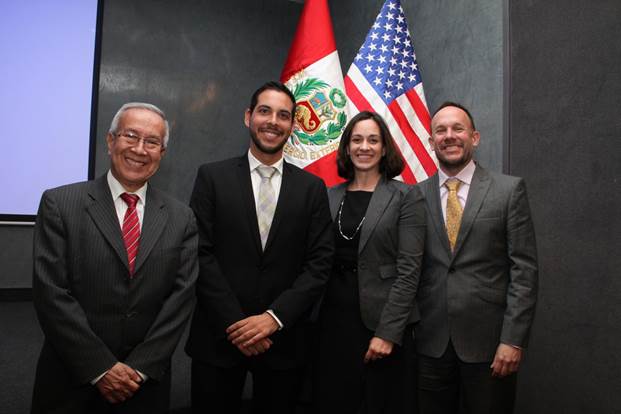 The meetings were chaired by (from left to right): Antonio González, Director of Cooperation and International Negotiations, Peruvian Ministry of Environment;
Diego Urbina, Director for North America and Europe, Peruvian Ministry of Foreign Trade and Tourism (MINCETUR);
Sarah Stewart, Director for Environment and Natural Resources, Office of the U.S. Trade Representative;
Rob Wing, Chief for Environment and Trade, Office of Environmental Quality and Transboundary Issues,
U.S. Department of State. Photo Courtesy of the Government of Peru
Following the closed session meetings, Stewart participated in a public session with over twenty Peruvian stakeholders, ranging from non-governmental organizations to private sector representatives. Stewart acknowledged the significant progress Peru has made in its forestry reform efforts, and reiterated the commitment of the United States to working with Peru to address remaining challenges and realize further achievements. She highlighted the importance of public engagement in U.S. trade agreements, and welcomed a robust question and answer session.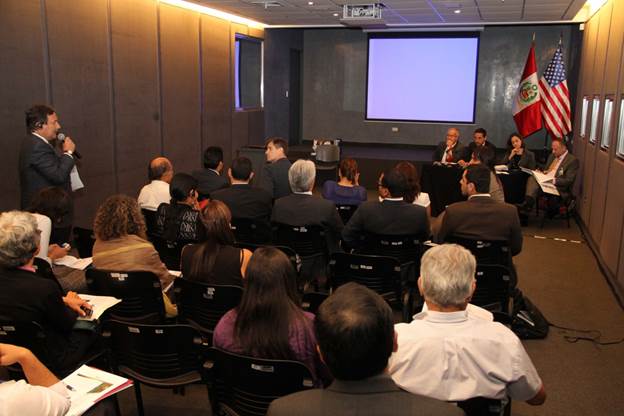 Photo Courtesy of the Government of Peru
Further details about the meetings can be found in the Joint Communiqué issued by both Governments.
Background
The Annex on Forest Sector Governance, part of the Environment Chapter of the U.S.-Peru trade agreement, reflects the commitment of both countries to take concrete actions to enhance forest sector governance, promote legal trade in timber products, combat trade associated with illegal logging and illegal trade in wildlife, and further sustainable management of forest resources.