By Sanjana Dubey, Office of Public and Media Affairs 
In today's opening session of the two-day United States-European Union High-Level Regulatory Cooperation Forum (HLRCF), Deputy U.S. Trade Representative Miriam Sapiro addressed an audience of American and European government officials and stakeholders. The session focused on the concerns of stakeholders from a wide spectrum of sectors, including manufacturing, agriculture, pharmaceuticals, and services. Ambassador Sapiro characterized the discussion session as an excellent platform to assess how the proposed Transatlantic Trade and Investment Partnership may reduce costs associated with regulatory differences that impede trade. Over the duration of the two-day session, U.S. and EU representatives will address several topics selected by stakeholders, including medical devices, cosmetics, chemicals, and automobiles.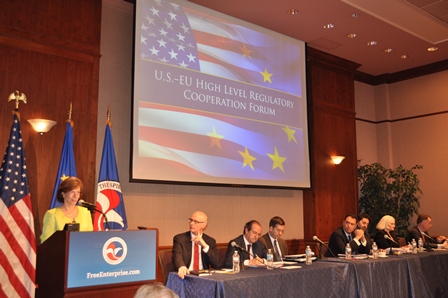 Ambassador Sapiro addresses the U.S.-EU High-Level Regulatory Cooperation Forum
In addition to addressing U.S.-EU regulatory cooperation, Ambassador Sapiro also discussed the progress leading up to the formal negotiation of the TTIP, including President Obama's State of the Union announcement, and USTR's March 20th formal announcement to Congress of its intent to begin the required 90-day consultation period that precedes each trade negotiation. During this period, USTR will consult with Congress and solicit comments from interested stakeholders. Ambassador Sapiro emphasized that these discussions help to ensure that the Administration's negotiating priorities and positions on the TTIP are fully informed, broadly supported, and representative of the national interest. A successfully concluded TTIP negotiation would represent one of the monumental trade negotiations in history, Ambassador Sapiro said, and would build on the already robust U.S.-EU trade relationship.
USTR will host a public hearing on the proposed Transatlantic Trade and Investment Partnership agreement at the end of May. Members of the public can submit and review comments relating to this hearing here.