By Christina Sevilla, Deputy Assistant USTR for Small Business
Earlier this month, the U.S. Trade Representative, Department of State, and the Small Business Administration welcomed the signing of the first Sister Center Partnership between George Mason University (GMU) in Fairfax, Virginia and the Autonomous University of Nuevo León (UANL) in Monterrey, Mexico. The Partnership is part of the Obama Administration's Small Business Network of the Americas (SBNA), which helps small businesses participate in international trade by linking U.S. small business development centers (SBDCs) with international counterparts via web-based platforms as well as direct contacts between centers and small business clients seeking foreign customers and partners. When U.S. small businesses begin to export, they often first look to neighboring countries, and this new initiative will help many Virginian small businesses find export opportunities in Mexico.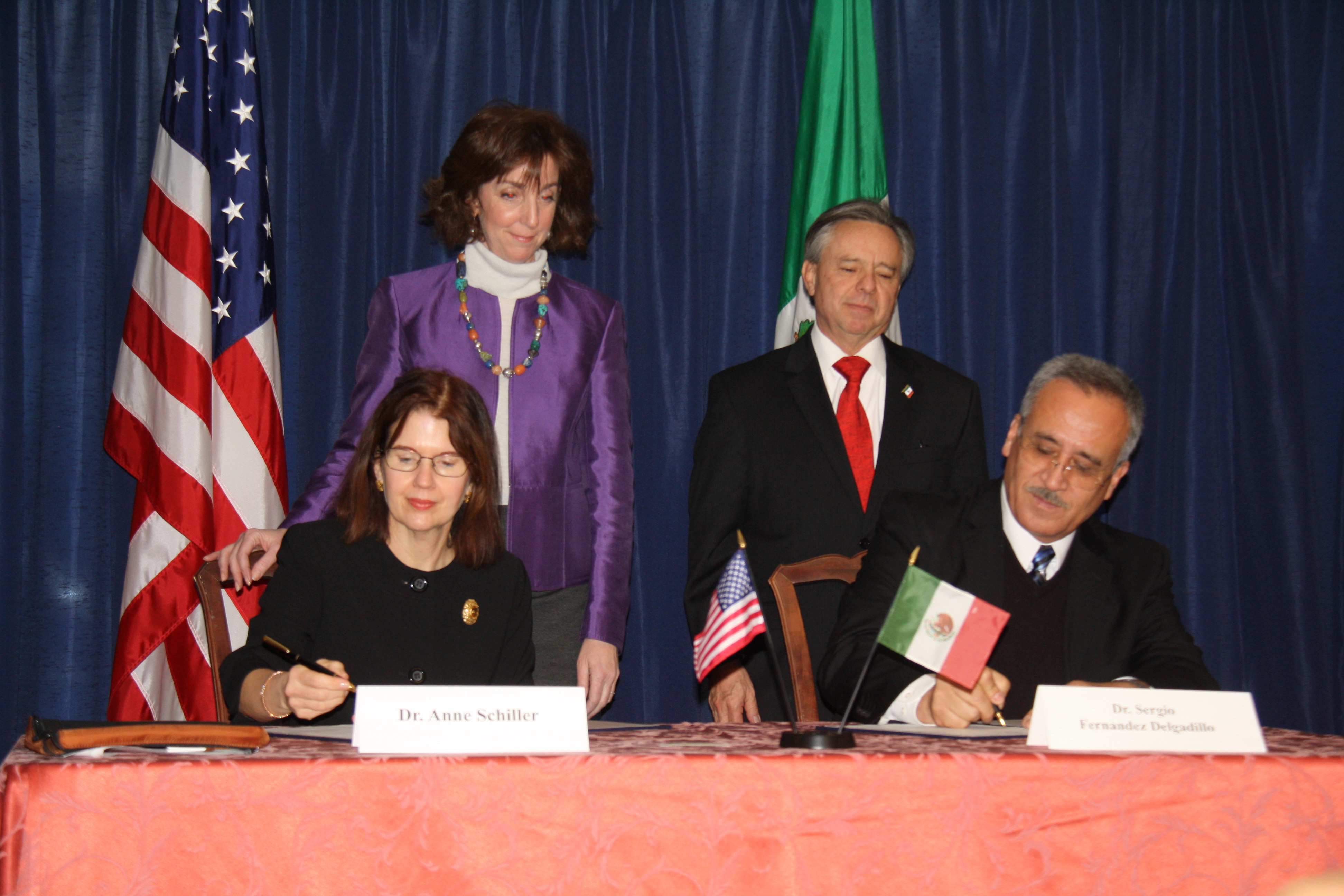 Seated(l to r): Anne Schiller, Vice President for Global Strategies and Professor of Anthropology at George Mason University ; Sergio Fernandez Delgadillo, Vice President for Sustainable Development, Autonomous University of Nuevo Leon . Standing (l to r): Roberta Jacobson, Assistant Secretary of State for Western Hemisphere Affairs; Eduardo Medina Mora Icaza, Ambassador of Mexico to the United States.
The signing ceremony at the State Department was attended by several Northern Virginia small business exporters specializing in education, information technology, medical and forensic services, all of whom are clients of the Virginia Small Business Development Center at George Mason University.  GMU's new partnership with UANL, Mexico's third largest public university and a major regional research institution, will help small businesses in both Virginia and Mexico identify important new trade and export opportunities. 
Mexico is the United States' third-largest trading partner and in 2013, U.S. goods exports to Mexico totaled a record $226.2 billion. In fact, in 2012, Virginia exported $1.1 billion in goods to Mexico, up 17% from 2011, which supported thousands of jobs in the state.
Mexico is also part of the Trans Pacific Partnership negotiations, which will be a high-standard 21st century agreement that will help even more Virginia small businesses engage in trade with Mexico. The TPP provides provisions such as customs and trade facilitation to speed the transfer of goods to markets, services liberalization in areas including IT, consulting, and environmental services, and e-commerce provisions to allow for the free flow of data across borders, all of which will enable U.S. small firms to reach more customers in Mexico and regional TPP partners, and experience the benefits of international trade.
To learn more about small businesses trade and exports, please visit http://www.ustr.gov/trade-topics/small-business. For more information on export opportunities, please visit http://export.gov/.