You are here
USTR Participates in Inaugural Environment Meetings with Panama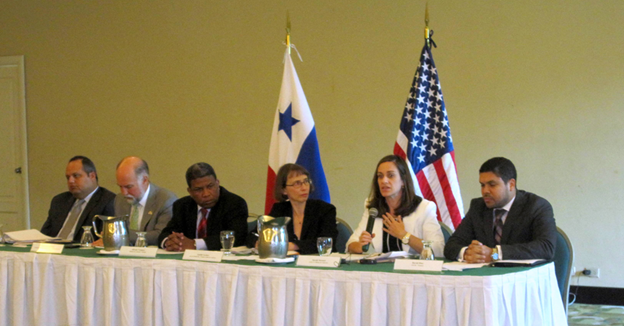 [Courtesy of the U.S. Department of State. From left to right:Norman Harris, General Coordinator for Implementation of the U.S. – Panama Trade Promotion Agreement, Panama Ministry of Commerce and Trade; Jonathan D. Farrar, U.S. Ambassador to Panama; Silvano Vergara Vasquez, Minister of Environment and General Administrator of Panama's National Environment Authority; Judith Garber, Principal Deputy Assistant Secretary for the Bureau of Oceans and International Environmental and Scientific Affairs, U.S. Department of State; Sarah Stewart, Director for Environment and Natural Resources, Office of the U.S. Trade Representative; David Diaz, Legal Counsel for Panama's National Environment Authority. ]
The United States and Panama have a long history of economic cooperation that was cemented the United States-Panama Trade Promotion Agreement (TPA), which entered into force on October 31, 2012.  The TPA promotes economic growth and trade, but also includes important provisions to advance the countries' mutual commitment to strengthen environmental protection.
On January 29, Director for Environment and Natural Resources Sarah Stewart traveled to Panama to co-chair the inaugural meeting of the United States - Panama Environmental Affairs Council (EAC) and participate in the first session of the U.S. - Panama Environmental Cooperation Commission (ECC). The Council and Commission meetings are an important way for the U.S. and Panama to exchange information about respective efforts to continue to implement the Environment Chapter of the TPA, identify pressing challenges and priority areas for environmental cooperation, and formulate a plan to achieve further progress.
The Council reviewed several areas of progress under the TPA's Environment Chapter, including actions taken by the United States and Panama to increase levels of environmental protection, effectively enforce environmental laws, and provide opportunities for public participation in environmental governance and the trade policy-setting processes.  The Council also set concrete next steps for establishing an independent secretariat to receive submissions from the public regarding concerns that one or both parties are not effectively enforcing their environmental laws. 
The Environmental Cooperation Commission (ECC) reviewed ongoing environmental cooperation activities and approved and signed the first U.S.-Panama Environmental Cooperation Work Plan under the ECA, which provides a robust framework for advancing environmental cooperation in the coming years.
The meetings culminated with a public session in which over 30 stakeholders engaged in an active discussion with government officials about implementation of the TPA Environment Chapter, existing environmental cooperation programs, and plans for further cooperation.
For more information, please see the Joint Communique of the U.S.-Panama Environmental Affairs Council and Environmental Cooperation Commission.