By Roya Stephens, Office of Public and Media Affairs
This Weekly Trade Spotlight highlights the exciting work of Colby Kirk and John Hancock, who interned at the Office of the United States Trade Representative (USTR) last summer in the Textiles Office. Kirk and Hancock, who were recently profiled on the "Modern Fellows" blog, used the knowledge they gained at USTR to open "J&C Suiting," which sells custom suits hand-tailored in Pakistan.
When Georgetown Masters of Science in Foreign Service graduates Colby Kirk and John Hancock first started summer internships at USTR, they didn't know that their experiences would lead them to start a business, but that's exactly what they did. Utilizing lessons from their internship in textile quality, customs, trade preference programs, and international trade agreements, Kirk and Hancock launched their home-grown, hand-sewn business.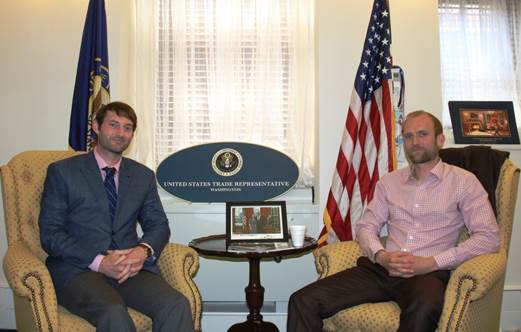 Colby Kirk and John Hancock return to USTR to discuss their new venture, J&C Suiting. 
Kirk and Hancock came to USTR with no background or prior interest in textiles, but under the direction and mentorship of Assistant U.S. Trade Representative for Textiles and Apparel Gail Strickler, the two threw themselves into the world of textiles, and quickly learned the importance of this industry to many developing countries. Their internship portfolio included identifying quality textiles, understanding trade preference programs, measuring customs duties, and researching the textile industry in countries of interest. Hancock previously lived and worked in Pakistan and was well-versed in the strong Pakistani hand-tailoring tradition, and often brought high-quality, low-cost tailored suits to his friends back in America. As they learned more about textiles trade, Kirk and Hancock began to see how they could use their growing knowledge of textiles to lay the foundation for a wider business endeavor that would support development in Pakistan and enable American customers to purchase low cost, high-quality bespoke suits.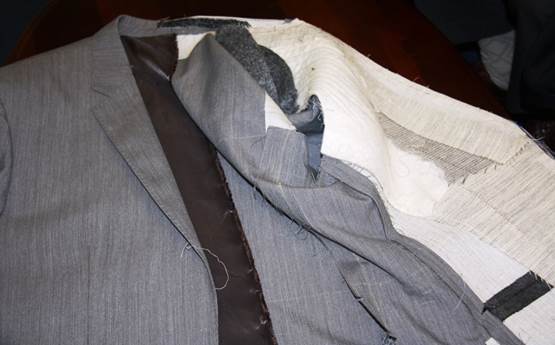 Kirk and Hancock display the inside construction of one of their hand-tailored suit jackets from Pakistan. 
The two young entrepreneurs put their plan into action immediately; after long days at USTR's Office of Textiles and Apparel, they would work on their business plan, practice taking suit measurements, and begin sourcing tailors with the help of their Pakistani-based friend and business partner Abbas Tariq. While both Kirk and Hancock agree that their lack of a business background left them at a slight disadvantage, Kirk was thankful for his internship experience, saying "the technical knowledge of trade agreements, and also the knowledge of textiles in particular are key to what we do." They believe that their experience working on textile and apparel issues in trade agreements like the Trans Pacific Partnership (TPP) and preference programs like the African Growth Opportunity Act (AGOA) provided them with vital information and guidance as they sought to develop their business.>
It appears that the stitches for J&C Suiting are falling into place. The two recent graduates have been accepted to Georgetown's entrepreneurial incubator program and are excited to expand their business. They are exploring ways to increase their client base while maintaining their personal interactions, and hope to move some of their production into Haiti, a country that also has a rich history in tailoring. Haiti benefits from the Haitian Hemispheric Opportunity through Partnership Encouragement Act (HOPE II), which provides preferential treatment for Haitian exports of apparel, textiles, and certain other goods.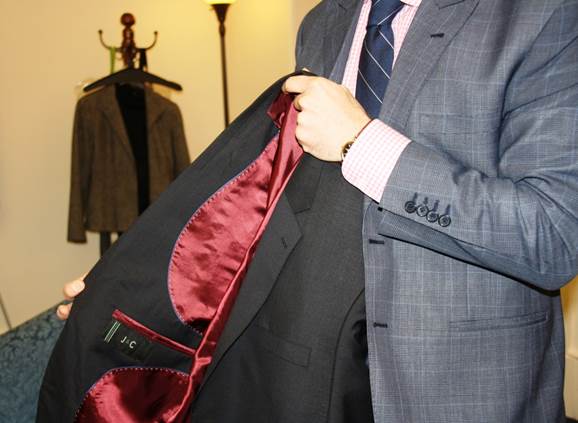 The young entreprenuers show the distinctive J&C Suiting label of a completed product. 
Kirk and Hancock have even begun to consult fledgling companies trying to establish businesses in developing countries. Hancock reflected on some of their initial business endeavors, saying "we know how to talk to the Pakistani customs agents when we're importing Italian fabrics and we have an understanding of value added tax and what that means for a textile". He admits that while they may not have the most efficient process, they know the right questions to ask and often share their lessons from USTR to help others understand textiles preference programs, value-added tax, apparel duty rates, fabric-sourcing, and customs and duties. The young entrepreneurs also encourage businesses to utilize government support, apply for grants provided by the World Bank and other development agencies to facilitate business in developing countries, and explore the USTR website to learn about countries with preference programs, duty rates, and other elements that are vital to trade with developing countries. To learn more about J&C Suiting, please visit their website here, and for more on USTR's Office of Textiles and Apparel, click here.