By Christina Sevilla, Deputy Assistant U.S. Trade Representative for Small Business, Market Access and Industrial Competitiveness
On Monday, Deputy U.S. Trade Representative Miriam Sapiro delivered remarks at the official launch of a U.S.-Tunisia Small and Medium Enterprise (SME) program at the Embassy of Tunisia in Washington, D.C., with the United States Agency for International Development's (USAID) Acting Assistant Administrator for the Middle East Alina Romanowski and Tunisian Ambassador to the United States Mokhtar Chaouachi.
Funded and led by USAID, the SME program seeks to boost Tunisia's regional trade with North and sub-Saharan Africa, and with partners like the United States. The initiative seeks to promote broad-based Tunisian growth by building the capacity of small business development centers (SBDCs) and providing technical assistance to small firms. Tunisia's SME centers will connect via an online platform to SBDCs in the United States, with the goal of fostering more small business partnerships and trade opportunities between our countries.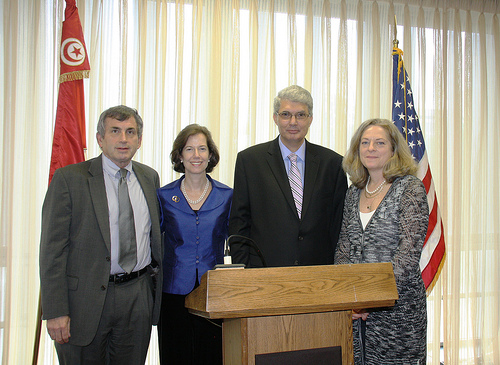 Ambassador Sapiro joins President & CEO of International Executive Service Corps Thomas Miller,
Tunisian Ambassador to the U.S. Mokhtar Chaouachi, and Acting Assistant Administrator for USAID's
Middle East Bureau Alina Romanowski at the Tunisian Embassy.
 The new SME initiative is part of the United States' renewed engagement with Tunisia under the U.S.-Tunisia Trade and Investment Framework Agreement (TIFA), which provides an ongoing platform to discuss a wide range of trade and investment issues, and the Obama Administration's Middle East and North Africa Trade and Investment Partnership, which is aimed at enhancing our broader economic cooperation with Arab countries in transition. Last year, in TIFA discussions in Tunis and in regional Deauville Partnership discussions at the Dead Sea with Morocco, Egypt, Libya, and Jordan, governments identified support to small and medium businesses as key to furthering economic growth and jobs.
Since the 2011 revolution, Tunisia has been working to usher in a new era of broad-based economic opportunity, and the United States is a key partner in helping Tunisia achieve its goals of greater prosperity and opportunity for its people. In 2012, bilateral trade in goods surpassed $1 billion, with U.S. exports to Tunisia totaling nearly $600 million, led by grains, fuel, vegetable oil, and machinery. U.S. imports from Tunisia nearly doubled over the course of the last two years, and currently stand at $700 million. To learn more about the Trade and Investment Framework with Tunisia, please click here.  For more information on the SME initiative, please see this fact sheet.