Deputy Assistant U.S. Trade Representative for South and Central Asian Affairs Mara Burr represented the Office of the United States Trade Representative (USTR) in Kabul, Afghanistan yesterday at the signing ceremony for the United States – Afghanistan Memorandum of Understanding (MOU) on Joint Efforts to Enable the Economic Empowerment of Women and to Promote Women's Entrepreneurship. The two parties began discussions about the importance of women's entrepreneurship during the bilateral Trade and Investment Framework Agreement (TIFA) Council meeting in December 2011, and the decision to pursue this new MOU was finalized in February 2013. USTR and Afghanistan's Ministry of Commerce and Industry will lead the implementation of the agreement on behalf of their respective governments.
This Agreement creates a cooperative framework that represents a major step towards addressing trade and investment barriers for women entrepreneurs, and it will also support initiatives to help women grow successful businesses. Both parties will solicit input from individual entrepreneurs and women's business associations to learn about specific problems they encounter. Some of the conferences that Burr attended during her visit focused on topics such as building public-private partnerships, entrepreneurial thinking amidst uncertainty, and establishing better laws. Further engagement will help policymakers formulate appropriate means to ensure equal business opportunities in both countries, regardless of gender. Moreover, both governments will work to increase access to information about laws, regulations, policies, international trade rules, and preference programs.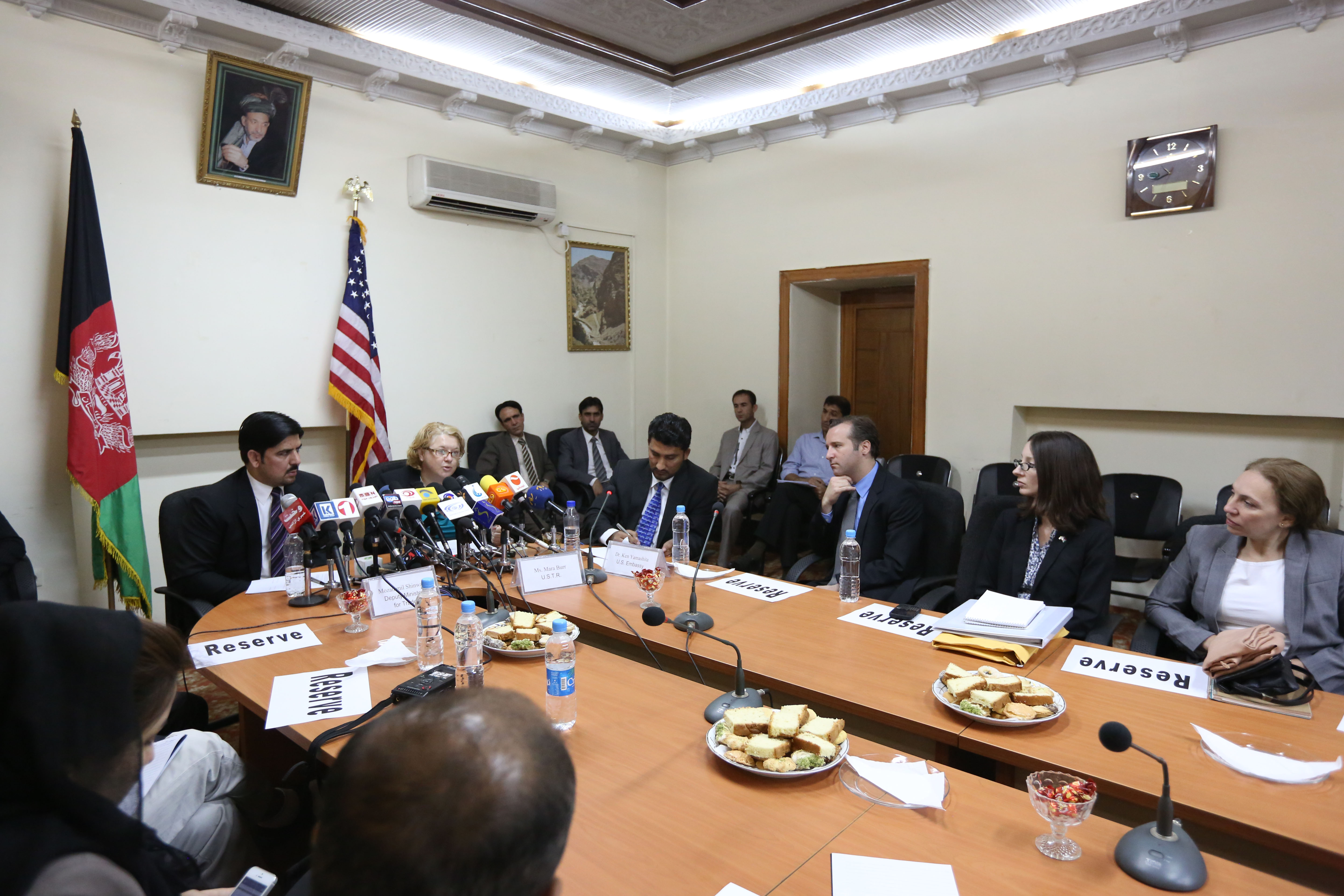 USTR's Mara Burr participates in events surrounding the signature of a new U.S.-Afghanistan Memorandum of Understanding on joint efforts to empower women
 
According to the United Nations Development Program, 27.6 percent of seats in the Afghan Parliament are held by women; however, only 5.8 percent of women have received at least secondary education. Women comprise approximately 15.7 percent of the Afghan labor force, but that figure is only half of the31.3 percent when looking at South Asia as a whole. A bilateral effort to empower women economically is especially important amidst rising levels of violence and a conservative backlash from members of parliament. As Burr stated today at the signing ceremony, "Any improvement in these numbers means that Afghanistan as a nation is taking advantage of its resources and brainpower – male and female – to help improve its economy, society and standard of living. Creativity and innovation are critical drivers in any economy and so Afghanistan has a real opportunity at this stage in its development to commit to promoting women and women entrepreneurs to ensure its economy benefits from the best and brightest minds, hardworking high achievers who can contribute to the development of Afghanistan."
To view a copy of the U.S.- Afghanistan Memorandum of Understanding on joint efforts to empower women, click here.