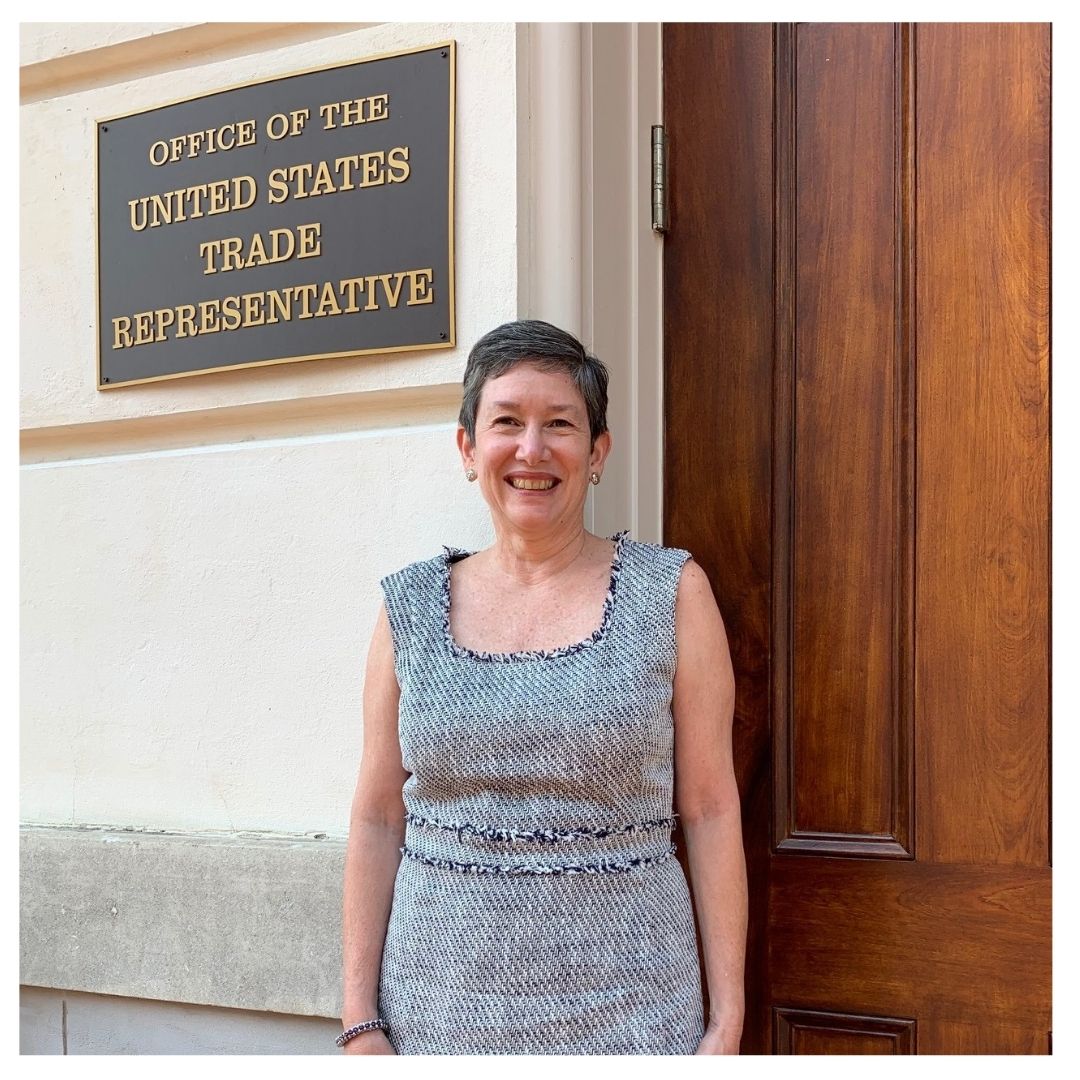 As the United States Trade Representative's Deputy General Counsel, María Pagán provides legal advice to USTR officials on trade negotiations, the implementation of bilateral and multilateral agreements, legislation, and regulations. 
María was born and raised in Puerto Rico. A daughter of Puerto Rican doctors, she learned at a young age the importance of building a sense of community: she went to the same school – Cupeyville School – from kindergarten through 12th grade, and is in touch with many of the friends she grew up with.
"Maybe from that I learned that having a good support system is important in every facet of life," she says.
After college, María moved to Washington, D.C. and received her law degree and a Masters in Foreign Service from Georgetown University.  She later worked as an attorney advisor at the U.S. Department of Commerce, where she got to know USTR and its attorneys when the agencies' work intersected.  A few years later, she was offered the chance to join the USTR team.
"Once my son was a bit older, and the opportunity came, I couldn't say no. And, here I am 18 years in.  Even on the most tiring day – and there have been many long and tiring days – I don't know where else I would want to be."
María is very proud of her Puerto Rican heritage – "Boricua de corazón", as she says.
"While life took me here and I have lived in the mainland for more years of my life than in Puerto Rico, home is where my family and my long-time friends are - Puerto Rico," she says. "That is one thing I love about our culture, we love being surrounded by family and friends. And, we love to dance, sing, and generally have a good time, especially during the holidays. Navidades in Puerto Rico is simply awesome."    
This year marks 500 years since the island's first European settlement, Caparra, was moved to what is now Old San Juan. María notes that this is a great opportunity to get people to learn more about Puerto Rico's culture and history. Not only that, she would like to push people to learn more about the various cultures that make up the American fabric.
"It sometimes saddens me that many people do not understand the history of places like Puerto Rico, other U.S. territories, and even places like California and other states, with such a rich Spanish and Mexican influence. We should all do a better job at learning a bit more. Even I."
María says she draws inspiration from her parents: "My mom was a working mom, when that was not that usual. So, I grew up with the knowledge that you can be a professional and a mom. My dad, in addition to being a dedicated physician, is also a multifaceted person. From him I learned that you can – and should – pursue multiple interests."
When asked about what Hispanic Heritage Month means to her, María says that the United States' great diversity makes us stronger and that we should all learn a bit from each other every day: "Each one of us – Hispanics, Asian Americans, Native Americans, African Americans – is like a beautiful piece of fabric, but when you put us all together, we make an even more beautiful, colorful quilt." And she adds: "I am a quilter."
And while María has accomplished a lot throughout her career, she says her greatest pride and joy is her son:
"Even with my frequent travels for work when he was little, and my coming home, doing dinner, and then sitting at the computer again for hours, he was always cheerful, level-headed, loving and has grown into a fine young man. I am so proud of him, including that he is very proud of his Puerto Rican heritage.  When he is doing well and happy, all is right in my world."
###
This post is part of a series celebrating USTR employees of Hispanic heritage for Hispanic Heritage Month.