During the Ninth WTO Ministerial Conference in Bali, Ambassador Michael Punke joined trade ministers and ambassadors from the Friends of Fish group to mark their shared commitment to the elimination of harmful fisheries subsidies. The group's twelve member countries, which include Argentina, Australia, Chile, Colombia, Costa Rica, Ecuador, Iceland, New Zealand, Norway, Pakistan, Peru, the Philippines, and the United States, pledged to refrain from introducing new, or expanding existing, subsidies that contribute to overfishing or overcapacity. By putting an end to harmful fisheries subsidies, WTO Members can help ensure that fishermen maintain a sustainable supply of fish to provide consumers at home and abroad, and a critical means to support their families.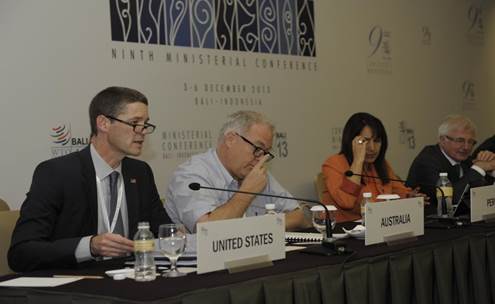 Ambassador Punke delivers a statement with Friends of Fish members
During the joint statement, Ambassador Punke emphasized the United States' commitment to work with WTO members to discipline harmful fisheries subsidies that not only distort global markets and place additional stress on the many of the world's rapidly depleting fisheries resources, but also jeopardize our oceans for future generations. According to the Food and Agriculture Organization (FAO), thirty percent of the world's fish stocks are reported to be overfished, and in some cases at risk of collapse. Ambassador Punke also highlighted the ongoing Trans Pacific Partnership negotiations as an important opportunity for the United States and other 'friends of fish' to set an example on this important issue.
The Doha Ministerial Conference first launched negotiations to improve disciplines on fisheries subsidies, and the Friends of Fish group was established to target and prohibit harmful subsidies that contribute to overfishing and overcapacity of fish environments. To learn more about Friends of Fish and WTO fisheries subsidies work, please click here. To read the full statement by Friends of Fish at the Ninth WTO Ministerial Conference, please click here.