Hanukkah, the eight-day Jewish holiday that celebrates the Maccabee re-dedication of the Holy Temple of Jerusalem, has come to a close. Last week, Ambassador Michael Froman represented President Obama in the annual lighting of the National Menorah on the Ellipse in Washington, DC. This White House event, traditionally held on the first day of Hanukkah, has been celebrated annually since 1979. Ambassador Froman was joined by members of the Jewish community, members of Congress, and various foreign dignitaries. Below are Ambassador Michael Froman's remarks from the lighting of the National Menorah, as delivered.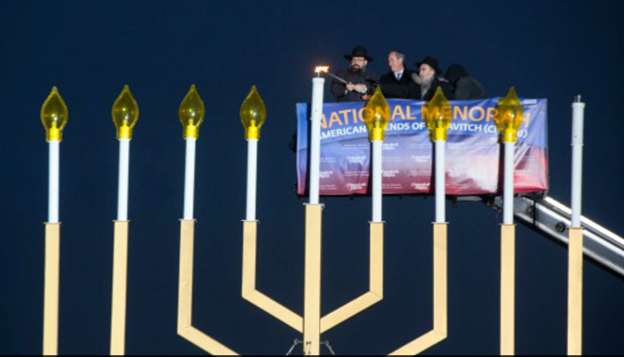 Ambassador Michael Froman lights the National Menorah

"It's a pleasure and an honor to be here tonight to light the national menorah.
"At Hanukah, we remember the story of a small and brave band of Maccabees, rising up to liberate their people, to rebuild their temple, to light the eternal flame.
"The story of Hanukah is a timeless one. It's a story of right over might, of people fighting for freedom, of the struggle that continues today as people strive to celebrate their faith.
"It's a story of miracles, the miracle of the oil that lasted eight days and the miracles we experience every day: the miracle of a baby's smile, of a child's discovery; the miracle of falling in love, of doing anything in your power for your family, of devoting yourself to the service of your community, your country.
"Tomorrow night, Jews all over the world will light candles to celebrate the first night of Hanukah, the festival of lights. But here in the United States, this is a special year. For the first time in 100 years, the first day of Hanukah falls on Thanksgiving.
"That gives us even more reasons to count our blessings, to remember the contributions of those who came before us and to make new memories tis holiday season.
"On behalf of President Obama, the First Lady and all who serve in this Administration, best wishes to you and your family for a Happy Hanukah, a Happy Thanksgiving and a healthy and happy holiday season."