STATEMENT ISSUED BY U.S. TRADE REPRESENTATIVE MICHAEL FROMAN FOLLOWING A VISIT TO THE PORT OF LOS ANGELES
"American ports are the crux of our global trading system. 
"Nearly 80 percent of the volume of international trade passes through our nation's ports – and the ports in Los Angeles and Long Beach are the biggest of them all.
"More than 8.1 million containers moved through the Port of L.A. in the last year alone, carrying more than 400 billion dollars' worth of goods.  90 percent of that trade is with Asia.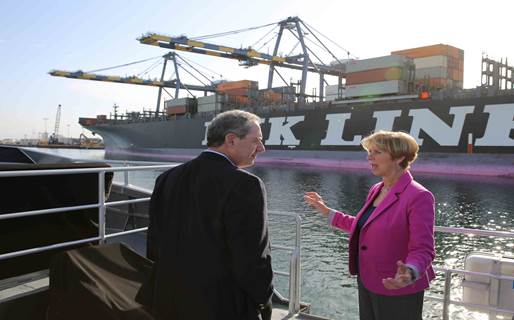 Ambassador Froman hears about US exports through the Port of Los Angeles
"But ports are more than an entry and exit point for things bought and sold.  They are a conduit for well-paying jobs for men and women all across this country: jobs loading and unloading shipments, jobs making the products that leave for other shores, jobs selling and adding value to the inputs our ports receive.  
"The President's trade agenda aims to support more jobs at our nation's ports and points beyond.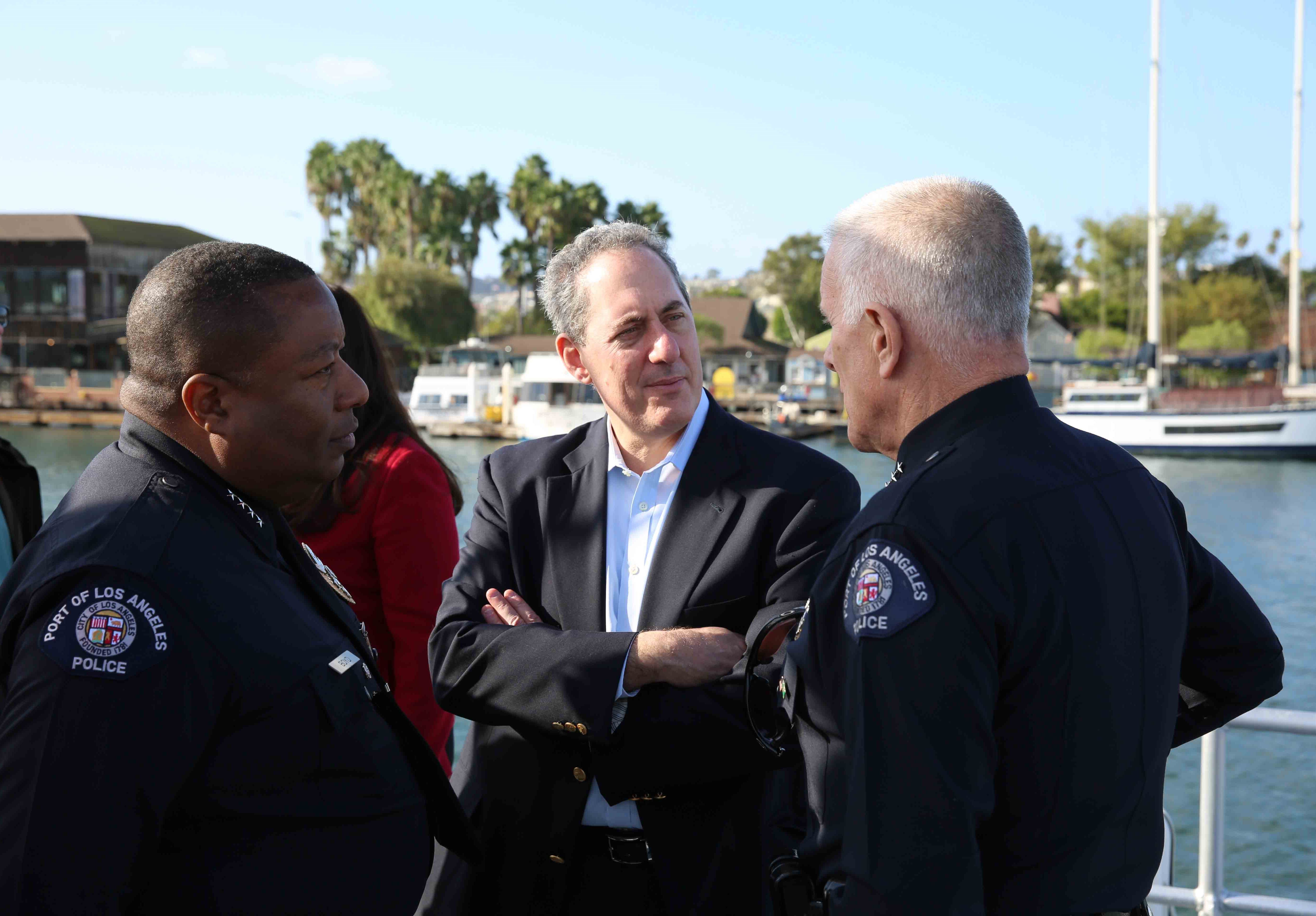 Ambassador Froman speaks with Port of Los Angeles police officers
"Right now the Obama Administration is poised to close a high-standard, comprehensive trade agreement between 12 countries in the Asia-Pacific region, including Japan, Vietnam, Mexico and Malaysia. 
"The Trans-Pacific Partnership will deliver jobs, spur growth and increase our exports, and bring benefits for our workers, businesses and communities.
"The TPP is truly a 21st century trade agreement.  It introduces new disciplines into the global trading system, covering issues like state-owned enterprises and e-commerce.
"What we do in TPP will matter for the global trading system.  TPP countries make up a third of global trade and 40 percent of global GDP.  Ultimately, TPP can serve as a platform for regional integration, and support and bolster the multilateral trading system.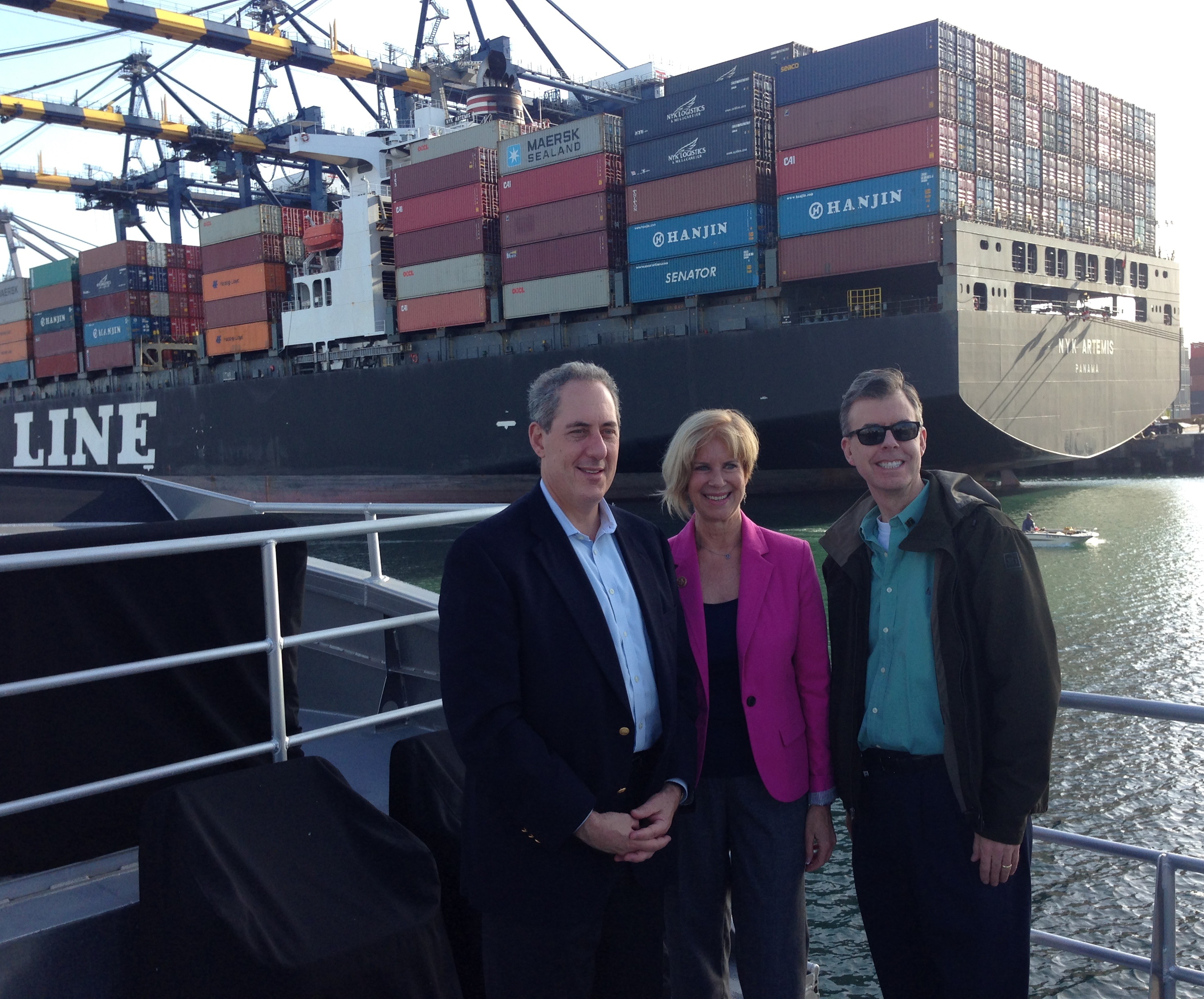 Ambassador Froman with Janice Hahn, U.S. Representative from Los Angeles and Gary Moore, Executive Director of the Port of Los Angeles
 

"As America's gateway to Asia, no state has more to gain from TPP than California and no city more than Los Angeles.
"In addition to TPP, we are working multilaterally to advance our trade agenda and boost our exports.
"At the World Trade Organization, we are currently engaged in negotiations for a multilateral agreement on trade facilitation.
"Trade facilitation is vital for our ports; it is about cutting costs and reducing delays at the border by streamlining customs procedures, and increasing transparency.
"A binding Trade Facilitation Agreement, which we hope to conclude at the WTO Ministerial in early December, would reduce the cost of customs, clearance, logistics, border measures, and other inefficiencies by 10 percent for developed countries and 14 percent for developing countries.  These reforms can increase global incomes by hundreds of billions of dollars.
"The Port of Los Angeles is a testament to the importance of trade facilitation measures.  If we are able to secure agreements that help streamline trade in other countries as well, we can boost our exports and expand our global footprint.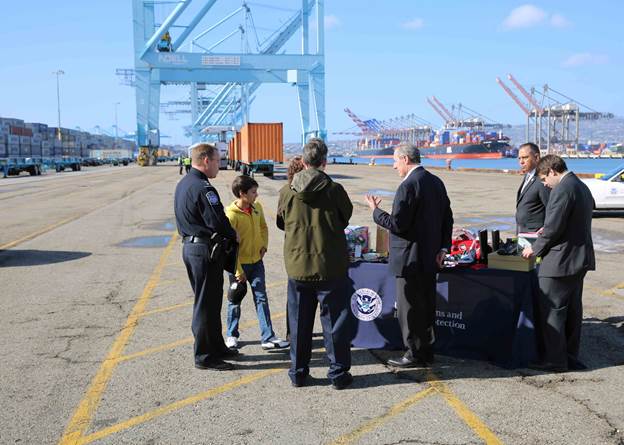 Ambassador Froman hears from Customs and Border Protection Officials 
"Trade agreements can also set strong rules that preserve American competitiveness and put our workers a level playing field – at our ports, in our factories, on our farms, and in services firms. 
"Trade rules are only as strong as our will to enforce them, and the Obama Administration has made that a top priority.
"Since 2009, we have brought fourteen trade enforcement cases at the World Trade Organization.
"In 2012, the Obama Administration created the Interagency Trade Enforcement Center – ensuring a 'whole-of-government' approach to trade enforcement.
"At the Port of Los Angeles, the work of the Office of the U.S. Trade Representative intersects with the efforts of Customs and Border Protection.  U.S. trade agreements protect American innovation and insist on high standards for goods, and the men and women of Customs and Border Protection put the muscle behind those trade rules.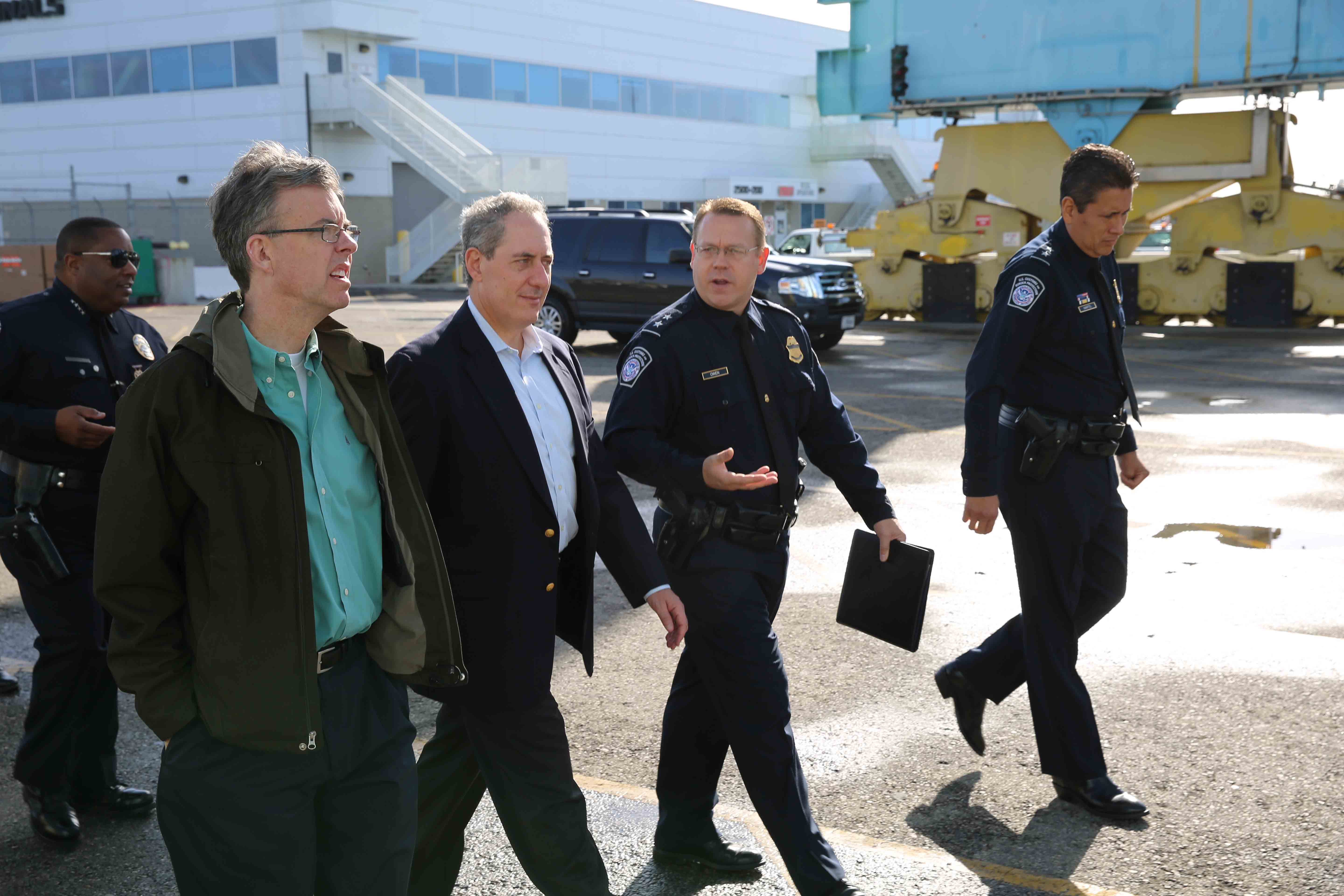 A CBP officer tells Ambassador Froman about daily work
"CBP officers are the first line of enforcement for America's trade rights.   They protect our borders and our citizens from unlawful imports – counterfeit products that threaten jobs and unsafe products that threaten lives.
"At the Port of Los Angeles, CBP is interdicting shipments of illicit products from fake cell phones to counterfeit medicines.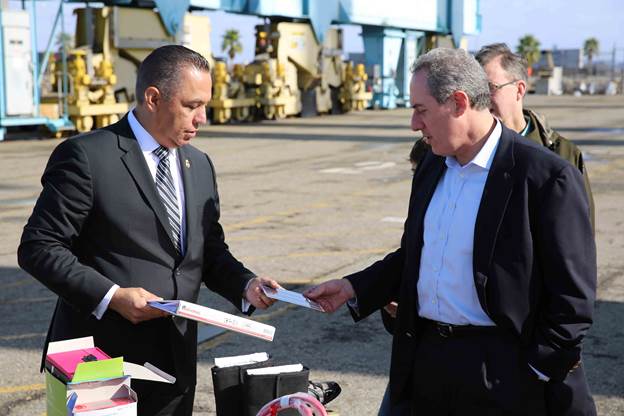 Ambassador Froman looks at counterfeit goods intercepted by Customs officials
"One notable area of coordination between USTR and CBP is in defense of our U.S. solar industry.   When it comes to solar, the Obama Administration is enforcing U.S. trade remedy laws and U.S. rights under WTO agreements. 
"At the same time, CBP is stepping up reviews of imports of solar panels from China to determine whether they are improperly evading payment of antidumping and countervailing duties.  Part of this review includes increased scrutiny of the documentation submitted by importers.
"This is just one example of our 'whole-of-government' approach to trade enforcement, ensuring that our agreements deliver on their promise and provide benefits to all Americans.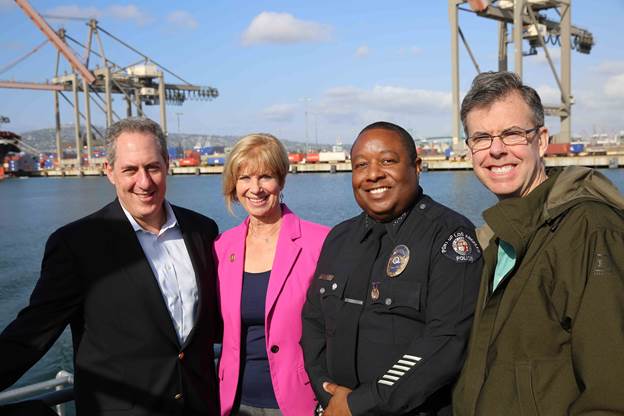 Ambassador Froman with Janice Hahn, U.S. Representative from Los Angeles, Ronald Boyd, Chief of Police of the Port of Los Angeles, and Gary Moore, Executive Director of the Port of Los Angeles 
"Our ability to set strong, enforceable trade rules to open global markets -- and keep them open -- requires a partnership between the Executive Branch and Congress.  Traditionally, that partnership is defined through Trade Promotion Authority, where Congress provides guidance to the Administration on how agreements should be negotiated and enforced. 
"To keep goods flowing through America's ports to the Asia-Pacific and points beyond, we need to support trade agreements that bolster employment on our shores. 
"To lock in the benefits of trade for California and the entire country, we need to move forward on trade promotion authority.
"Trade agreements hold great promise for California – promise that can be seized with new agreements, sustained by strong enforcement, and secured with a new commitment in Congress to America's future in global trade."