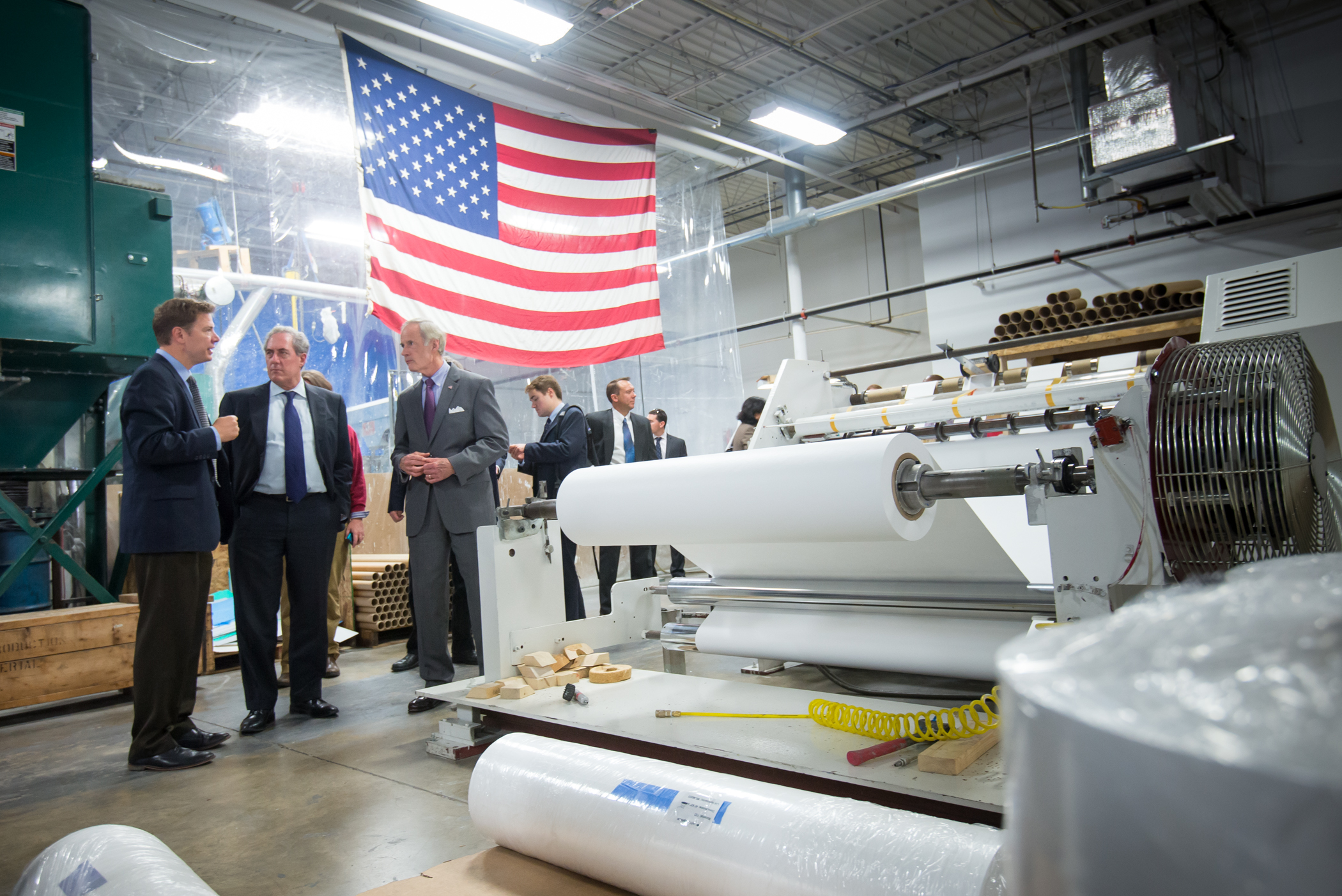 In his first public event since negotiating the historic Trans-Pacific Partnership, U.S. Trade Representative joined with Delaware Senators to visit a New Castle small business that is creating jobs by exporting in order to highlight how trade is benefitting the local economy
Wilmington, DE – U.S. Trade Representative Michael Froman, the chief United States official on international trade, visited Delaware Friday in order to showcase how Made-in-America exports are helping the state's economy and to explain how the Trans-Pacific Partnership (TPP), a major trade agreement that gains Delaware's workers, farmers, and businesses unprecedented access to the Asia-Pacific region, will help grow those benefits. 
For example, in 2014, Delaware exported an estimated $5.3 billion of Made-in-America goods to the world – supporting approximately 23,278 thousand jobs. And 22% of Delaware's exports ($1.1 billion) already go to TPP countries. 
This was Ambassador Froman's first public event since a breakthrough that concluded the TPP negotiations earlier this week.  The TPP is President Obama's signature trade initiative, and it will eliminate 18,000 different taxes imposed on American imports to the Asia-Pacific, while leveling the playing field for Americans with groundbreaking labor and environmental standards.  
In Delaware, Ambassador Froman, Senator Carper, and Senator Coons toured WhiteOptics, a New Castle small business that is creating jobs by developing, manufacturing and exporting energy efficiency-enabling reflector and diffuser technologies for the commercial lighting industry. Afterwards, Ambassador Froman and both senators held a press conference with WhiteOptics Founder and President Eric Teather on how WhiteOptics exemplifies why trade is important to Delaware's economy, and how the TPP will help Delawareans compete internationally.
"Made-in-America exports, like the energy efficient lighting products that WhiteOptics sells around the world, support over 11 million high-paying jobs across the United States," said U.S. Trade Representative Michael Froman. "With 95 percent of the world's consumers living outside our borders, it's imperative that we do as much as we can to help American exporters break through into new, growing economies so that we can sell more exports and support more jobs right here in the United States.  That's exactly what TPP does – by cutting over 18,000 taxes that make American exports more expensive and establishing the highest labor standards of any trade agreement in history, TPP levels the playing field for Delawareans and for the United States so that we can compete and win in the global economy."  
"One of my top priorities as a member of Congress is to create a nurturing environment for job creation," said U.S. Senator Tom Carper. "In Delaware, we know one of the keys to doing that is making sure our small businesses can compete and win in the global economy. We have to look outside our national borders to find 95 percent of the world's markets, so we must negotiate trade deals that get us there." 
"Manufacturing is a critical part of Delaware's economy, and I want to thank Ambassador Froman for visiting with one of my favorite Delaware manufacturers, WhiteOptics," said U.S. Sen. Chris Coons. "We discussed a number of important issues today from trade and small business development to intellectual property protection. I also want to thank Ambassador Froman for his continued work on African Growth and Opportunity Act and efforts on opening up markets in Africa to Delaware's poultry producers."
"I believe that reducing or eliminating tariffs between the countries we trade with will help both WhiteOptics and the respective countries to grow," said Eric Teather, Founder and President of WhiteOptics. "By lowering overall costs of trade and improving intellectual property protection we feel more empowered to invest for growth."
Roughly 25 percent of WhiteOptics' annual sales are from exports, and the company currently exports to four TPP countries: Canada, Mexico, Australia, and New Zealand.  However, WhiteOptics faces taxes of up to 30% on their exports to these countries – all of which will be brought down to 0 by the TPP if enacted.                                                                                              
Following their tour of WhiteOptics, Ambassador Froman, Sen. Carper, and Sen. Coons met with a wide variety of Delaware business leaders at DuPont headquarters in Wilmington. At DuPont, a major Delaware employer and exporter, Ambassador Froman continued to illustrate how the TPP would level the playing field in the Asia-Pacific region for American businesses, workers, and farmers by cutting foreign taxes on Made-in-America exports and raising standards across the region.
"As the sixth largest U.S. Exporter, DuPont commends the Administration for reaching agreement on the long-sought Trans-Pacific Partnership deal," said James C. Borel, Executive Vice President for DuPont. "When approved by Congress and implemented, the agreement will usher in an unprecedented era of trade between countries of the Pacific Rim that represent some 40% of the world's economy, by reducing tariffs, protecting intellectual property and eliminating non-tariff regulatory burdens.  Removing these barriers to trade allows companies like DuPont to bring our innovations and global science to more markets in every corner of the world."
For a profile on Delaware on the Trans-Pacific Partnership from a recent White House TPP report, please click here (pg. 22).
For a White House fact sheet on the Trans-Pacific Partnership, please click here.