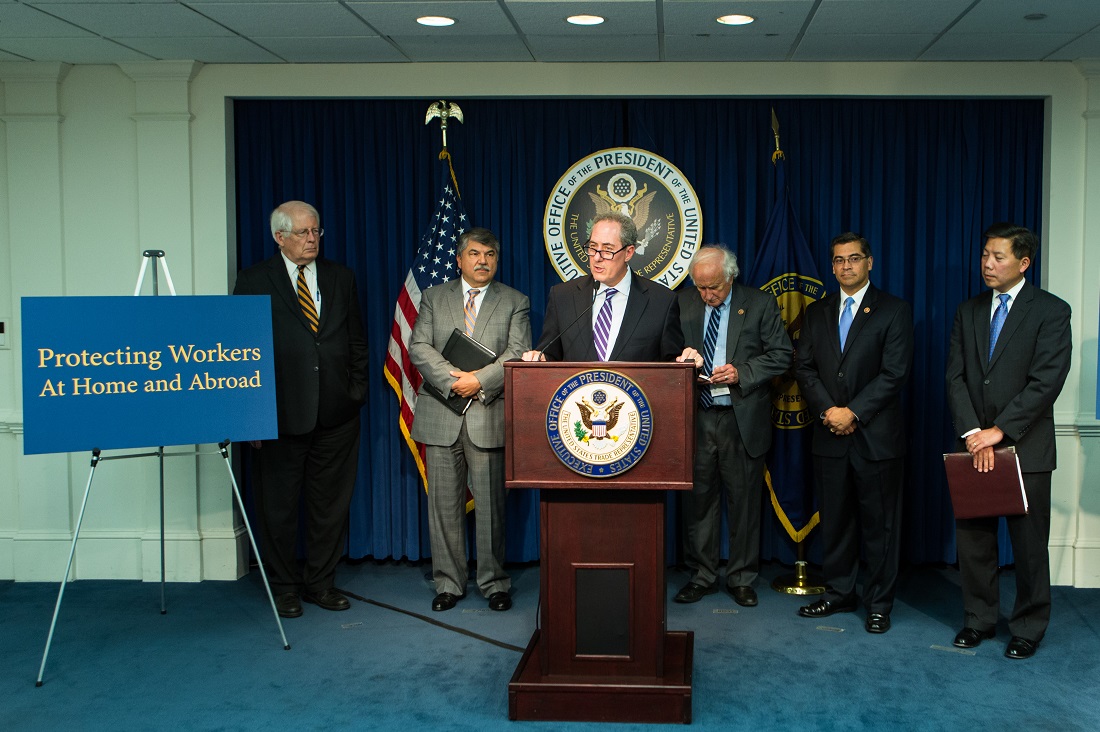 U.S. Trade Representative Michael Froman says CAFTA-DR partner has taken important steps under enforcement plan; but more progress required to meet legal obligations
Washington, DC – United States Trade Representative Michael Froman today announced that the United States is proceeding with a labor enforcement case against Guatemala under the Dominican Republic-Central America-United States Free Trade Agreement (CAFTA-DR).
"Our goal in taking action today remains the same as it has always been: to ensure that Guatemala implements the labor protections to which its workers are entitled.  Litigation is a means toward that goal, not an end in itself," said Ambassador Froman in his remarks. He added, "We remain hopeful that Guatemala can succeed in producing concrete improvements for workers on the ground, which would send a positive signal to the world that would help attract investment, expand economic activity, and promote inclusive growth. This is also critical to demonstrating to the Guatemalan people that there are opportunities for their children in staying and working at home rather than embarking on a dangerous journey of migration.  We remain committed to helping Guatemala achieve these outcomes and earn the benefits that come with enforcing laws to uphold internationally recognized labor rights."
The United States has engaged extensively with Guatemala in an effort to improve labor law enforcement.  This engagement led to the signing of a groundbreaking Enforcement Plan between the United States and Guatemala in April 2013.  Over the course of the last seventeen months, the United States has worked closely with Guatemala to monitor implementation of the Enforcement Plan.
Guatemala took a number of important steps to implement the Enforcement Plan.  And Ambassador Froman travelled to Guatemala in July 2014 to urge the government to follow through with the remaining steps. There is still room for the United States and Guatemala to work together to resolve the concerns. Even this week, efforts are underway in Guatemala to make progress on key concerns, including on legislation to sanction employers that violate labor laws. The United States will continue to work closely with Guatemala on those efforts and hopes to make further progress on that front and on other critical actions agreed to under the Enforcement Plan. That will include further steps to demonstrate that the legal reforms Guatemala has undertaken are being effectively implemented, leading to concrete improvements on the ground.
"Today's decision reflects the Obama administration's firm commitment to enforcing labor obligations under U.S. trade agreements. They are critical to ensuring that workers are treated fairly and share in the benefits of the global economy," said U.S. Secretary of Labor Thomas E. Perez. "When workers in Guatemala can exercise their labor rights freely, their working and living conditions improve.  A more level playing field for U.S. workers and companies is created, and competition shifts off the backs of workers.  We look forward to continuing our work with Guatemala toward effective labor law enforcement and to the resulting increase in good jobs at home and abroad." 
"We applaud the actions of our government today and hope the decision sends a clear message to our trading partners that the enforcement of core labor rights is essential to our trade and investment relationships," said AFL-CIO President Richard Trumka. "In the end, the focus of this process must be on improving working conditions and delivering long overdue justice to Guatemala's workers."
"It is high time that Guatemala be held to the labor obligations to which it committed a decade ago," said U.S. Rep. Sandy Levin (MI-9), ranking member of the House Committee on Ways & Means. "Guatemala's failure to enforce its labor laws weakens its economy and damages the opportunity for its citizens to earn a decent livelihood at a time when large numbers of unaccompanied minors and others are fleeing to escape violence and poverty in their home countries. I appreciate the hard work that USTR, the Department of Labor, the AFL-CIO and others have devoted to this important cause." 
"Only meaningful improvements in economic and security conditions and strengthening institutions of democratic governance in Guatemala can provide a lasting and sustainable solution to its many challenges, and today's actions by USTR and the Department of Labor are an important step in the right direction," said U.S. Rep. Xavier Becerra (CA-34), Chairman of the House Democratic Caucus. "Trade should be about removing barriers, improving standards for working men and women, and lifting all boats so we can trade as partners and as equals."
"As trade continues to expand in volume and in value, it will increasingly involve nations with very different labor, environmental, and safety practices," said U.S. Rep. David Price (NC-4). "We have a responsibility to develop, improve, and enforce high-quality standards in the context of trade agreements so as to not disadvantage American workers, while also improving conditions in the countries with which we do business."
BACKGROUND 
Please click here to view USTR's new fact sheet, "Standing Up for Workers: Ensuring That the Benefits Of Trade Are Broadly-Shared."
On August 9, 2011, the United States requested the establishment of an arbitral panel under the CAFTA-DR dispute settlement chapter to address Guatemala's apparent failure to effectively enforce its labor laws.  The United States and Guatemala agreed to suspend the arbitral panel pending the negotiation and implementation of the Enforcement Plan.  United States and Guatemala signed the Enforcement Plan in April 2013.  Over the last 17 months, both countries have been in close contact as Guatemala has taken several steps to implement the measures outlined in the Enforcement Plan.
Under the Enforcement Plan, Guatemala committed to strengthen its labor inspections, expedite and streamline the process of sanctioning employers and ordering remediation of labor violations, increase labor law compliance by companies engaged in exporting, improve the monitoring and enforcement of labor court orders, publish labor law enforcement information, and establish mechanisms to ensure that workers are properly compensated upon closure of a company.
Over the course of the Enforcement Plan, on three separate occasions, the parties agreed to continue the suspension of the panel to provide Guatemala more time to implement the Plan: once at the six-month mark; a second time at the one-year mark; and a third time at the sixteen-month mark.  However, Guatemala has still not met the terms of the Enforcement Plan and concerns over the enforcement of Guatemala's labor laws have not been resolved; therefore the United States is proceeding with the dispute settlement process.
To read Ambassador Michael Froman's remarks on the labor enforcement case against Guatemala, please click here.
Take a look at what people are saying about the U.S. proceeding with the labor enforcement case against Guatemala, here.
To learn more about the labor enforcement case against Guatemala, please click here.