The Trans-Pacific Partnership gives American farmers, ranchers, and businesses much to be thankful for this Thanksgiving
On Thursday, Americans around the world will gather with family and friends to celebrate Thanksgiving. The Office of the U.S. Trade Representative has many reasons to be thankful every year, and with the conclusion of the Trans-Pacific Partnership (TPP) negotiations in October, this Thanksgiving is particularly special to both us, as well as the millions of American workers, farmers, ranchers, and businesses, large and small, who will gain from a level playing field and increased market access
The Obama Administration is pursuing one of the most ambitious trade agendas in  history, and the TPP represents the cornerstone of that agenda. The TPP would not only link nearly 40% of the global economy, it would also eliminate more than 18,000 taxes that various TPP countries currently place on Made-in-America exports.
This Thanksgiving, we are particularly thankful for the many benefits the TPP will bring American farmers and ranchers. Agricultural goods currently face tariffs higher than many other Made-in-America exports, and the TPP will reduce and eliminate thousands of tariffs and unnecessary barriers that hinder the export of these products. Let's take a look at a few examples of how the TPP will benefit American food and agriculture exports, as a reminder of the many things we have to be grateful for this Thanksgiving.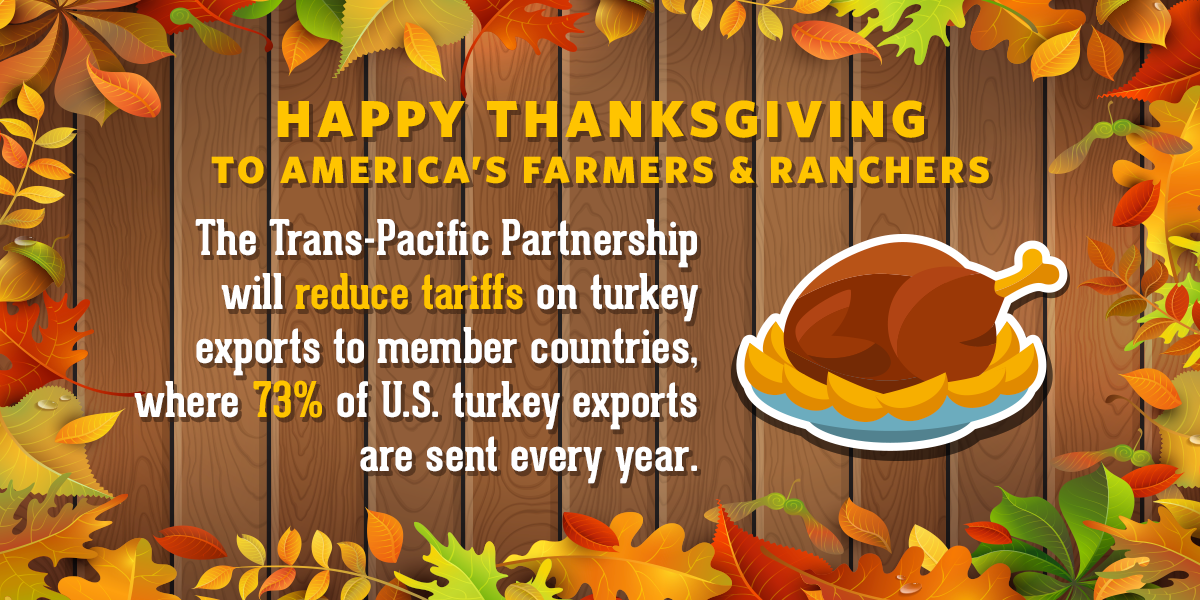 Turkey
Turkeys represent the centerpiece of Thanksgiving, and last year, Americans gave thanks for the more than 46 million turkeys gracing their dinner tables. Yet, turkey consumption is not confined to U.S. consumers, and TPP ensures that America's turkey farmers will have important new market opportunities in Vietnam, Japan, Canada, and New Zealand.  For example, Vietnam will be eliminating its 40% tariff on U.S. turkey meat over 13 years, and Japan and New Zealand are eliminating their tariffs immediately.  This is a commitment worthy of praise, considering that more than 73% of U.S. turkey exports are sent to TPP countries every year.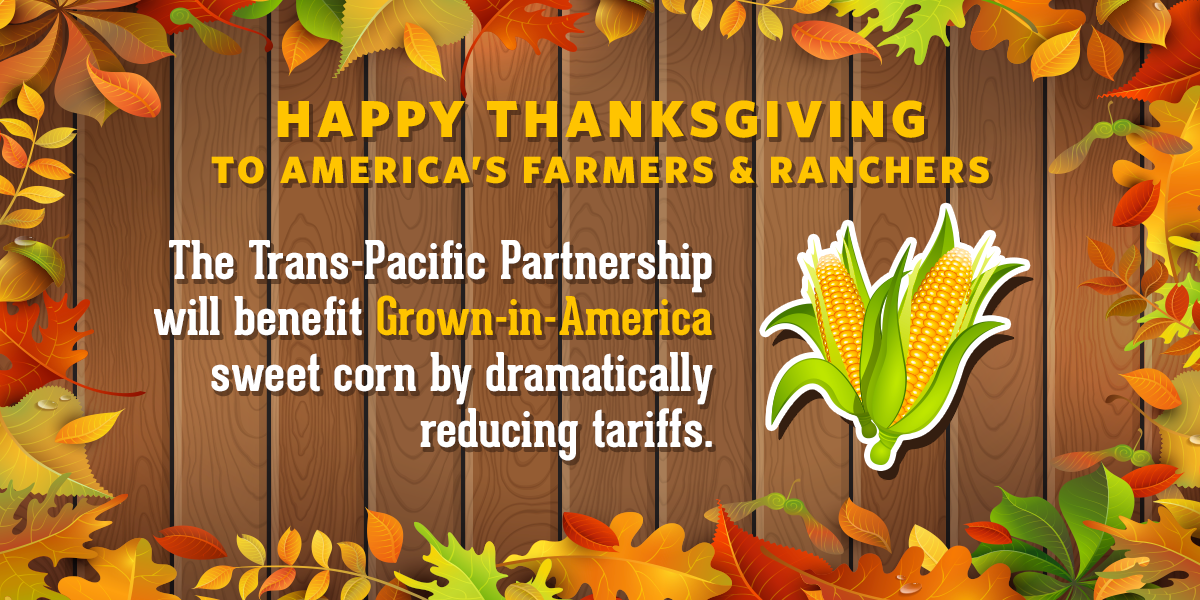 Corn
Thanksgiving dinners always feature a cornucopia of corn products: corn bread, creamed corn, corn on the cob, and other variations of the sweet vegetable. In 2014, American farmers exported $54 million of sweet corn to TPP countries. The TPP will benefit grown-in-America sweet corn by dramatically reducing tariffs, especially in countries like Japan and Vietnam, where their tariffs on American sweet corn exports will be eliminated  no later than seven years, and in some cases immediately.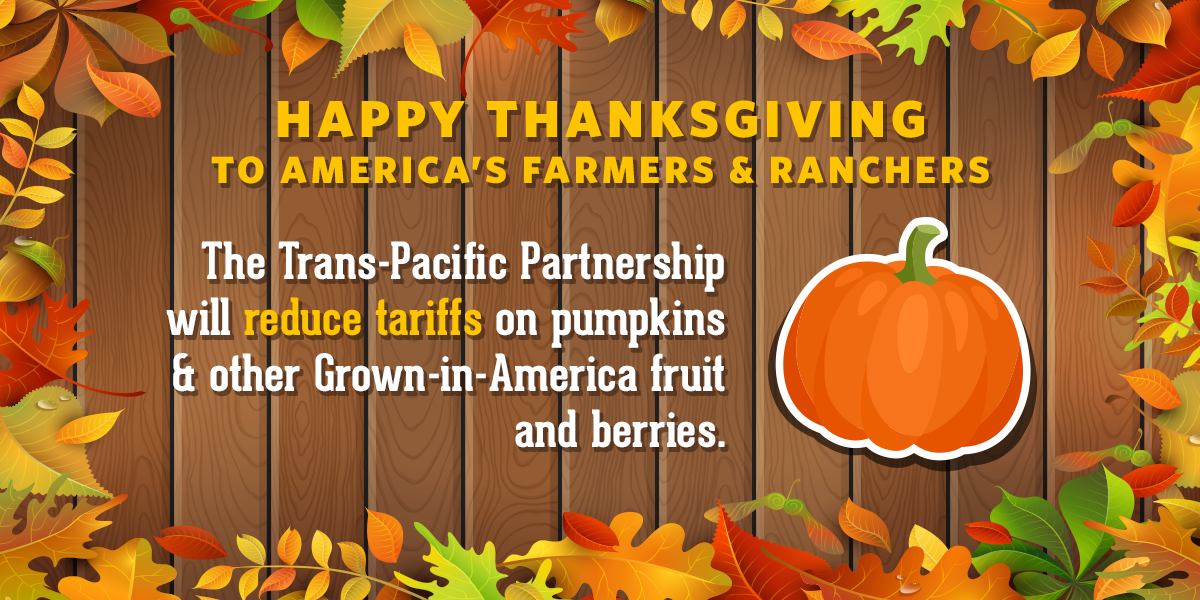 Fruit
Here's a fun Thanksgiving fact: Did you know that pumpkins are actually considered fruit? As such, pumpkins join the other American-grown berry and fruit exports that will benefit from reduced tariffs in the TPP. Some of America's greatest fruits are showcased during Thanksgiving in the form of pies: pumpkin pie, cherry pie, blueberry pie, rhubarb pie, and apple pie, to name a few. While Americans love their pies, it's the fruits that sweeten them are represent a strong American export. In 2014, the U.S. exported $4.6 billion worth of fruit to TPP countries, and the agreement's passage will help these exports grow even stronger.
In fact, American cherry producers, such as from California and Washington State, will have much easier access to Asia-Pacific under the TPP. The agreement mandates the gradual reduction of tariffs on cherries, particularly in countries like Japan, where taxes of grown-in-America cherries will be completely eliminated in six years. And what about the classic cranberry relish to top off the turkey?  American cranberry farmers from Massachusetts and Wisconsin will have tariffs eliminated in TPP countries.  It's quite clear that the TPP will give American fruit producers much to be thankful for in the years to come.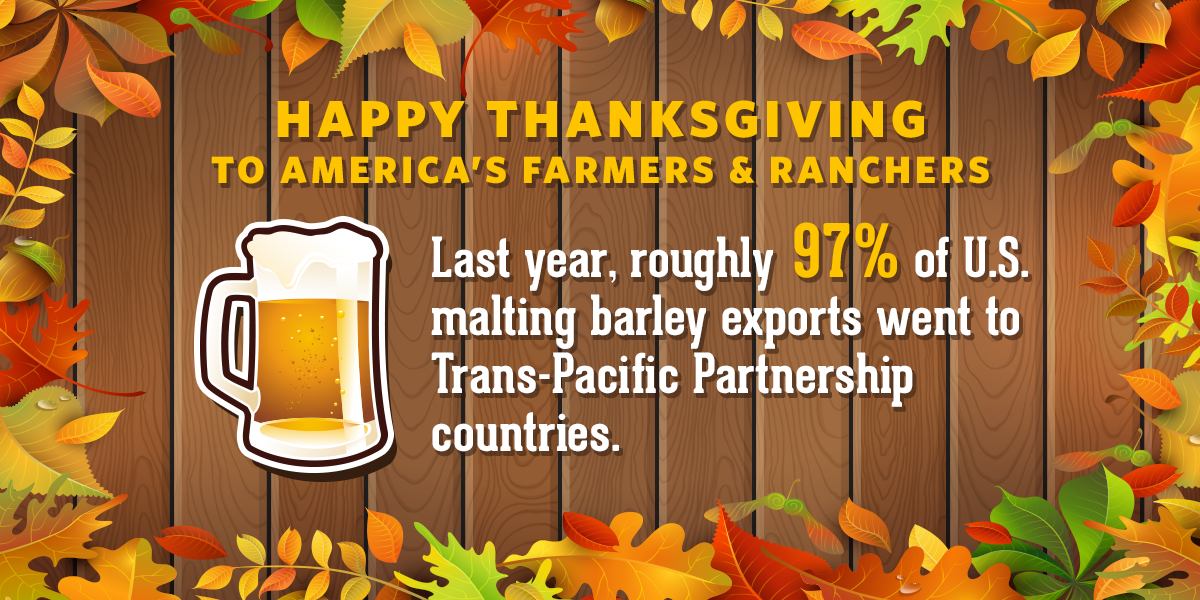 Beer
Thanksgiving, football, and beer go together like the American-grown peas and carrots on the Thanksgiving table. While peas and carrots exports will reap the benefits of eliminating tariffs under the TPP, exports of barley, a key ingredient in most beers, also stand to benefit from the agreement. Last year, roughly 97% of U.S. malting barley exports, largely from North Dakota and Iowa farmers, went to TPP countries.  Under the TPP, whether it's malting barley or beer itself, those exports are expected to grow. Cheers to that!
Thanksgiving provides a great opportunity to reflect on the many things we have to be grateful for. The multifaceted benefits the TPP – a level playing field, lowered tariffs, greater market access, ease of exports, and greater opportunities for American exporters, are yet another reason for American farmers, ranchers, workers and consumers to be thankful this year, and the Obama Administration will continue to work to ensure these benefits are realized and enjoyed for years to come.
The Office of the U.S. Trade Representative wishes you all a happy, and healthy, Thanksgiving. Let's eat!