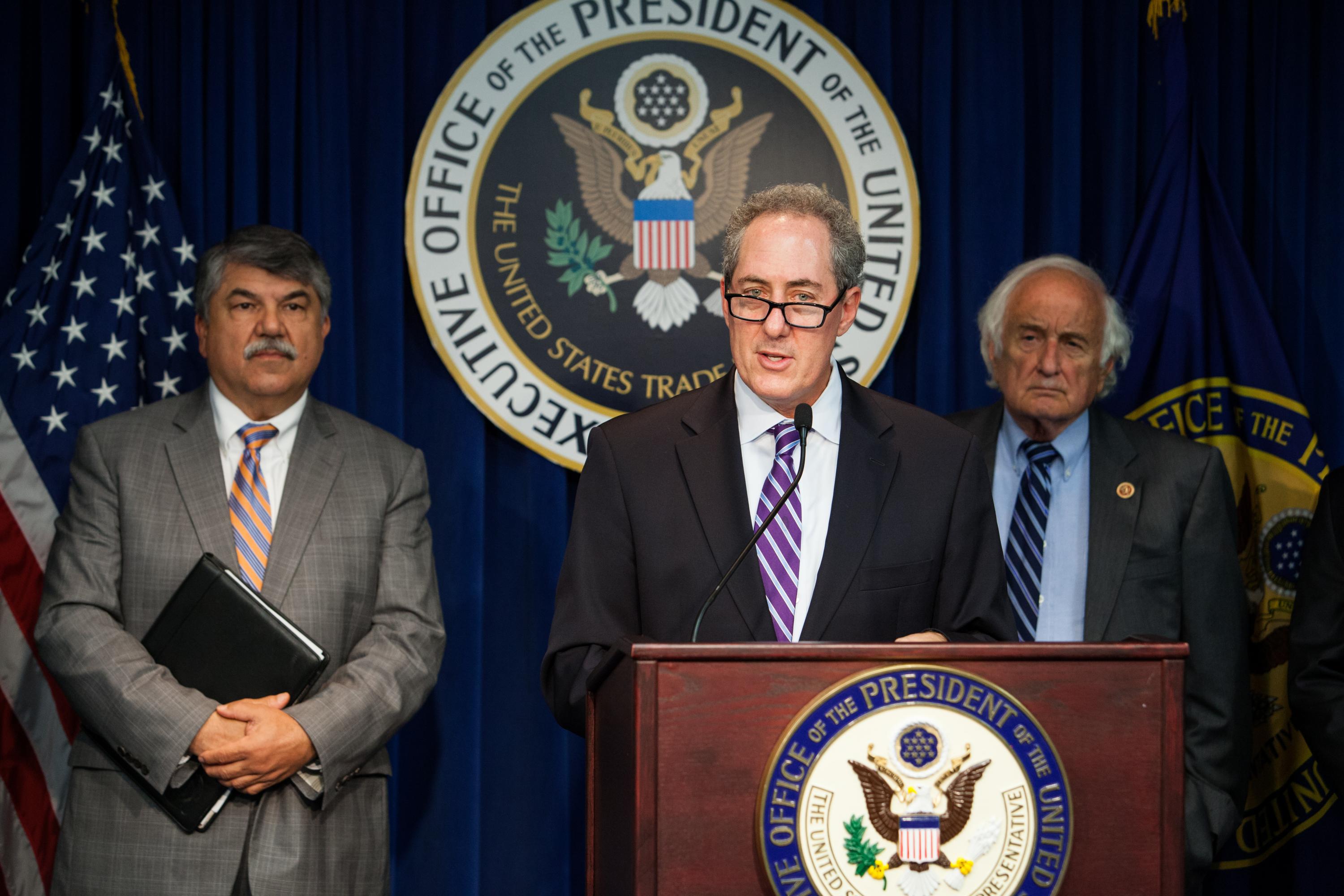 "As President Obama has made clear, our trade agreements must advance both our interests and our values, they must be monitored closely, and the obligations of our trading partners must be enforced.  Central to that commitment are strong, enforceable labor standards. These standards level the playing field for American workers and help ensure that global competition is driven by entrepreneurship and innovation, not by exploitation or injustice....We remain hopeful that Guatemala can achieve a resolution that results in concrete improvements for workers on the ground and sends a positive signal to the world that would help attract investment, expand economic activity, and promote inclusive growth."
-U.S. Trade Representative Michael Froman
United States Trade Representative Michael Froman today announced that the United States is proceeding with a labor enforcement case against Guatemala under the Dominican Republic-Central America-United States Free Trade Agreement (CAFTA-DR) – first-ever labor dispute under any free trade agreement. This is the latest in a series of significant actions taken by the Obama Administration to stand up for labor rights and level the playing field for American workers.
Below are reactions to today's announcement:
AFL-CIO President Richard Trumka: "We welcome today's historic decision by the U.S. government to resume the arbitration process with Guatemala, to ensure that the government of Guatemala will live up to the commitments made under CAFTA to enforce workers' basic rights and Guatemalan labor laws….We applaud the actions of our government today." [AFL-CIO, 9/18/2014]
AFL-CIO Trade & Globalization Policy Specialist Celeste Drake: "Today, for the first time ever, the U.S. government announced that it will begin the formal consultations that are used to resolve trade disputes in the area of labor rights enforcement….The AFL-CIO welcomes today's announcement by the U.S. government to resume the arbitration process with Guatemala, to ensure that the government of Guatemala will live up to the very basic commitments it made to effectively enforce its own labor laws." [AFL-CIO, 9/18/2014]
Sen. Ron Wyden (D-OR): "This moment is long in coming. Guatemala has failed to enforce its labor laws again and again, and its workers continue to suffer as a result. Our trading partners cannot turn a blind eye to their trade obligations, including those that are in place to protect workers…Labor rights are a pillar of our nation's trade policy, which makes today's action so important. Both USTR and the Department of Labor have put hundreds of hours into developing the facts of this case, and on top of that, put hundreds more into trying to resolve this matter with Guatemala. One thing is clear: to have a strong enforcement record, you cannot enforce some of the rules some of the time. All of the rules must be enforced all of the time. That includes labor and environmental commitments." [Senate Finance Committee, 9/18/2014]
Sen. Ben Cardin (D-MD): "International trade is good for America, but it must be based on international standards that protect workers, both at home and with our trading partners. I applaud the administration for holding Guatemala accountable to its current commitments under CAFTA. Guatemala's workers are suffering because their country is not upholding its own laws. Trade must not reduce us all to the lowest common-denominator…" [Senate Finance Committee, 9/18/2014]
Sen. Sherrod Brown (D-OH): "It's critical that the U.S. holds Guatemala accountable on its trade commitments and this action is an important first step…For too long, Guatemala has failed to uphold and enforce its labor laws – endangering workers and misleading businesses and trade partners. I'm glad to see USTR restart litigation and look forward to a result that provides justice for Guatemalan workers and lives up to the agreements required by CAFTA."[Senate Finance Committee, 9/18/2014]
House Committee on Ways & Means Ranking Member Rep. Sandy Levin (D-MI): "It is high time that Guatemala be held to the labor obligations to which it committed a decade ago…Guatemala's failure to enforce its labor laws weakens its economy and damages the opportunity for its citizens to earn a decent livelihood at a time when large numbers of unaccompanied minors and others are fleeing to escape violence and poverty in their home countries. I appreciate the hard work that USTR, the Department of Labor, the AFL-CIO and others have devoted to this important cause." [Office of U.S. Rep. Sander Levin, 9/18/2014]
Rep. Charlie Rangel (D-NY): "I applaud the efforts of the USTR and the Labor Department to hold Guatemala accountable for failing to carrying out its commitments under the Action Plan and for its failure to enforce labor laws that will protect its workers' rights…We have an obligation to ensure that our trading partners are upholding the terms negotiated in our Trade Agreements. I am proud to join my colleagues and labor unions to send a strong message that the United States will not overlook any failures to maintain and enforce laws that meet international labor standards." [Office of U.S. Rep. Sander Levin, 9/18/2014]
Rep. Xavier Becerra (C-DA): "Only meaningful improvements in economic and security conditions and strengthening institutions of democratic governance in Guatemala can provide a lasting and sustainable solution to its many challenges, and today's actions by USTR and the Department of Labor are an important step in the right direction…Trade should be about removing barriers, improving standards for working men and women, and lifting all boats so we can trade as partners and as equals." [Office of U.S. Rep. Sander Levin, 9/18/2014]
New Democrat Coalition – Rep. Ron Kind (D-WI), Rep. Rick Larsen (D-WA), Rep. Cedric Richmond (D-LA), and Rep. Gregory Meeks (D-NY): "Today's announcement by U.S. Trade Representative Froman and Labor Secretary Perez sends a clear, unequivocal message to our trading partners: we will not take enforcing our standards lightly…International competition should be a race for innovation advantage, not a race to the bottom on labor standards. We commend USTR and the Labor Department for continuing to stand by the rights of workers in Guatemala by initiating this action. Smart, vigorous enforcement, coupled with a robust system of international trade agreements aimed at selling our products around the globe can be a win-win for everybody, but only if our trading partners play by the rules." [New Democrat Coalition, 9/18/2014]
Politico: "The United States said Thursday it is restarting trade litigation against Guatemala for failing to meet labor provisions of the U.S.-Central American Free Trade Agreement, potentially paving the way for fines or even trade sanctions to be imposed for the first time in a labor dispute….The USTR said in a fact sheet on its overall labor record that the United States is "negotiating the strongest labor protections in history" in both the proposed TPP and the Transatlantic Trade and Investment Partnership with the European Union. In addition to Guatemala, the Obama administration has used trade negotiations and preference programs to push for stronger worker protections in Colombia, Jordan, Bahrain, Bangladesh, Swaziland, Haiti and Burma, USTR said." [Politico Pro, 9/18/2014 (pay-walled)]
Reuters: "The United States ramped up pressure on Guatemala to better protect workers' rights on Thursday by restarting a trade case that could lead to hefty fines for the Central American nation. U.S. Trade Representative Michael Froman said the Obama administration would push ahead with legal action under a free trade agreement to make Guatemala meet international standards on labor rights and working conditions….Guatemala, whose economy is around the size of that of the U.S. state of Alaska, could face fines of up to $15 million a year or the suspension of trade benefits if an arbitration panel finds it has violated labor provisions in the Dominican Republic-Central America-United States Free Trade Agreement (CAFTA-DR)." [Reuters, 9/18/2014]
Huffington Post: "The United States accused Guatemala this week of failing to live up to the labor standards spelled out in the countries' trade agreement, pursuing a case that could lead to fines if Guatemala doesn't move to better protect its workers. U.S. Trade Representative Michael Froman said he was moving ahead with the case in hopes that Guatemala, a partner of the U.S. in the Dominican Republic-Central America Free Trade Agreement (CAFTA), would make 'concrete improvements' in enforcing labor laws already on its books." [Huffington Post, 9/18/2014]
The Hill: "US ramps up pressure on Guatemala over labor rights…U.S. Trade Representative Michael Froman announced Thursday that the United States will push ahead with a labor rights case against Guatemala. Froman said that while Guatemala has made progress on implementing a labor enforcement plan forged in April 2013, there is still more work to be done on workers' rights provisions required under the Dominican Republic-Central America-United States Free Trade Agreement." [The Hill, 9/18/2014]