On the occasion of World Trade Month this May, Deputy Assistant U.S. Trade Representative for Small Business Christina Sevilla spoke at the International Relations Council of Kansas City, Missouri on the topic of "The European Union and the United States:  An Important Relationship for the Midwest."  The conference was organized in partnership with the Delegation of the European Union (EU) to the United States and attracted over 75 local business and civic leaders.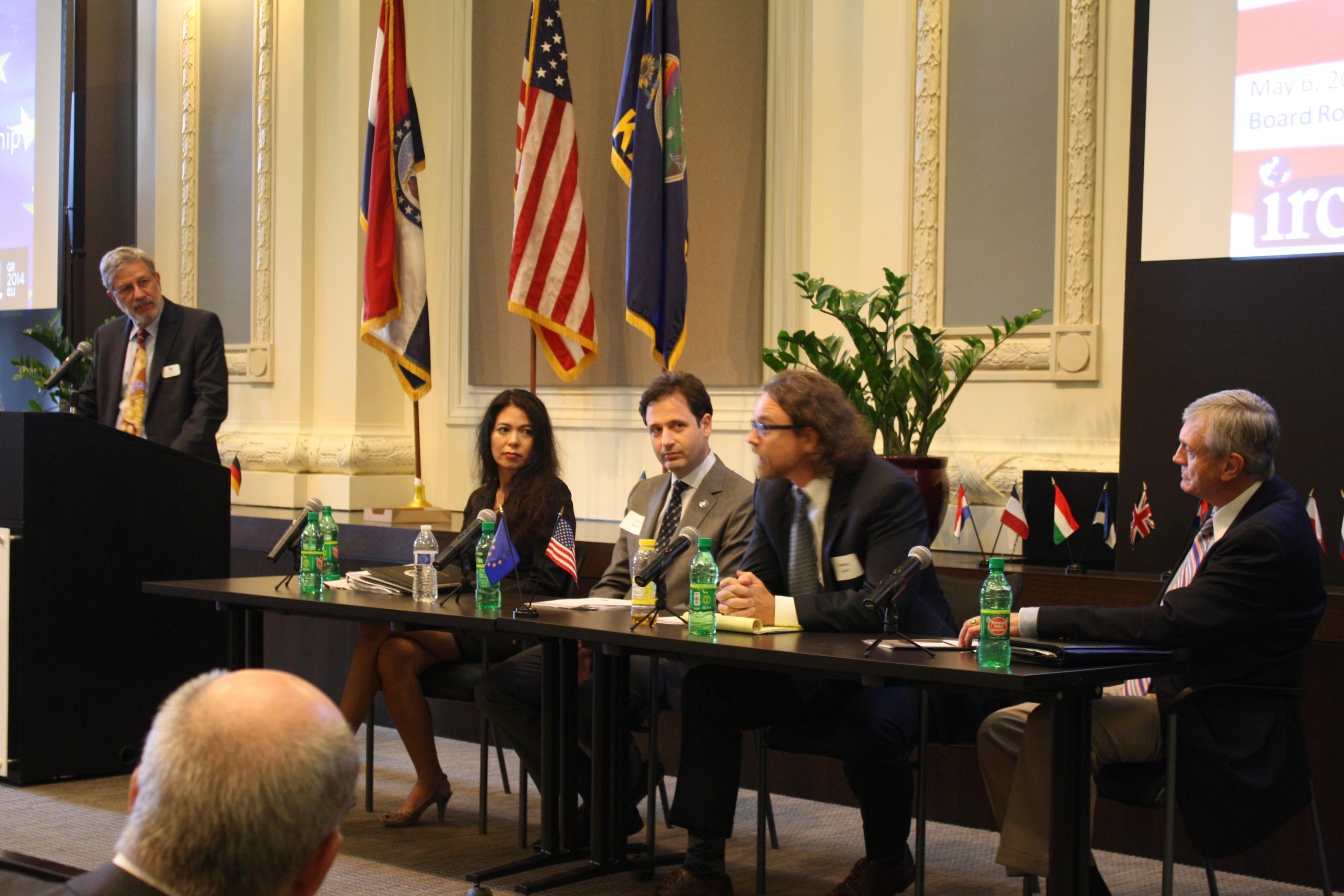 Photo l to r:  Former U.S. Ambassador to Portugal Allan Katz;  Christina Sevilla, USTR;  Gino Serra, Honorary Vice Consul of Italy, Prof. Timothy Lynch, Univ. of Missouri Kansas City School of Law; Fred Baehner, Member of ITAC-3 Small and Minority Business
During the discussion, Ms. Sevilla met with state and local officials, including Chang Lu of the Kansas Department of Commerce and Jacques Lebrument of the Greater Kansas City World Trade Center, to discuss the ways the U.S. trade agenda unlocks opportunities for American small businesses and workers. Both Lu and Lebrument assist local small and medium-size businesses with export sales and identifying new markets and customers abroad, and were interested to learn about the new opportunities the Transatlantic Trade and Investment Partnership (T-TIP) will provide for local American firms in the EU market.
The United States currently has 28 million small and medium-sized enterprises, which have provided over half of all jobs and two-thirds of all new jobs in recent decades. The U.S.-EU trade and investment relationship is important to the American economy, and the Midwest in particular, as it supports thousands of local jobs in the region. Missouri exported $2.0 billion to the European Union last year, and in 2013, the top Missouri manufacturing goods exports to the 28 EU Member states included chemicals ($610 million), transportation equipment ($236 million), non-electrical machinery ($228 million), and computer and electronics ($106 million).  Missouri's top EU export destinations in 2013 were the United Kingdom ($323 million), Germany ($321 million), France ($196 million), Netherlands ($181 million), and Italy ($172 million).  The UK and Germany are also top sources of foreign direct investment in Missouri and neighboring Kansas, employing American workers in high-wage jobs, such as the German company Siemens, which has offices in Kansas City.
One of the many Midwestern firms currently exporting to the European Union is Kansas City-based SCD Probiotics, a bioscience company that produces probiotics for applications in agriculture, livestock operations and aquaculture.  The company's exports consistently account for more than 70 percent of their sales, supporting jobs in Missouri and the greater Midwest. Exports have led to the company opening an office in Germany, through which German retail customers can place orders for the American goods. To learn more about the opportunities the Transatlantic Trade and Investment Partnership (T-TIP) will provide American small and medium-sized business, please click here.
To learn more about the benefits of trade to small businesses, please visit  http://www.ustr.gov/trade-topics/small-business