By Brakeyshia Samms, Office of Public and Media Affairs
Acting U.S. Trade Representative Demetrios Marantis led a roundtable discussion today on U.S.-sub-Saharan African trade and investment with President Ernest Bai Koroma of Sierra Leone, President Macky Sall of Senegal, President Joyce Banda of Malawi, and Prime Minister José Maria Pereira Neves of Cape Verde. The leaders were in Washington, D.C. to meet with President Obama and other Administration officials because of their extraordinary progress in establishing democratic institutions, and to discuss how they and other Africans can build on democratic progress to generate increased economic opportunities and expanded trade and investment.
At the Economic Growth Roundtable, representatives from key U.S. agencies including the Office of the United States Trade Representative (USTR), the Department of State, the U.S. Agency for International Development (USAID), the Millennium Challenge Corporation (MCC), the Export-Import Bank, and the Overseas Private Investment Corporation (OPIC) and the African leaders discussed the benefits of deeper economic ties between their countries and the United States, enhancing two-way trade and investment, furthering regional economic integration within Africa, and strengthening the four countries' business and investment environments, to produce broad-based economic growth. They discussed a number of U.S. initiatives aimed at enhancing our trade and investment relationships with the four countries, including the African Growth and Opportunity Act (AGOA), a trade preference program that allows eligible African countries to export the vast majority of goods they produce to the U.S. duty free. Sierra Leone, Senegal, Malawi, and Cape Verde are each eligible for AGOA benefits.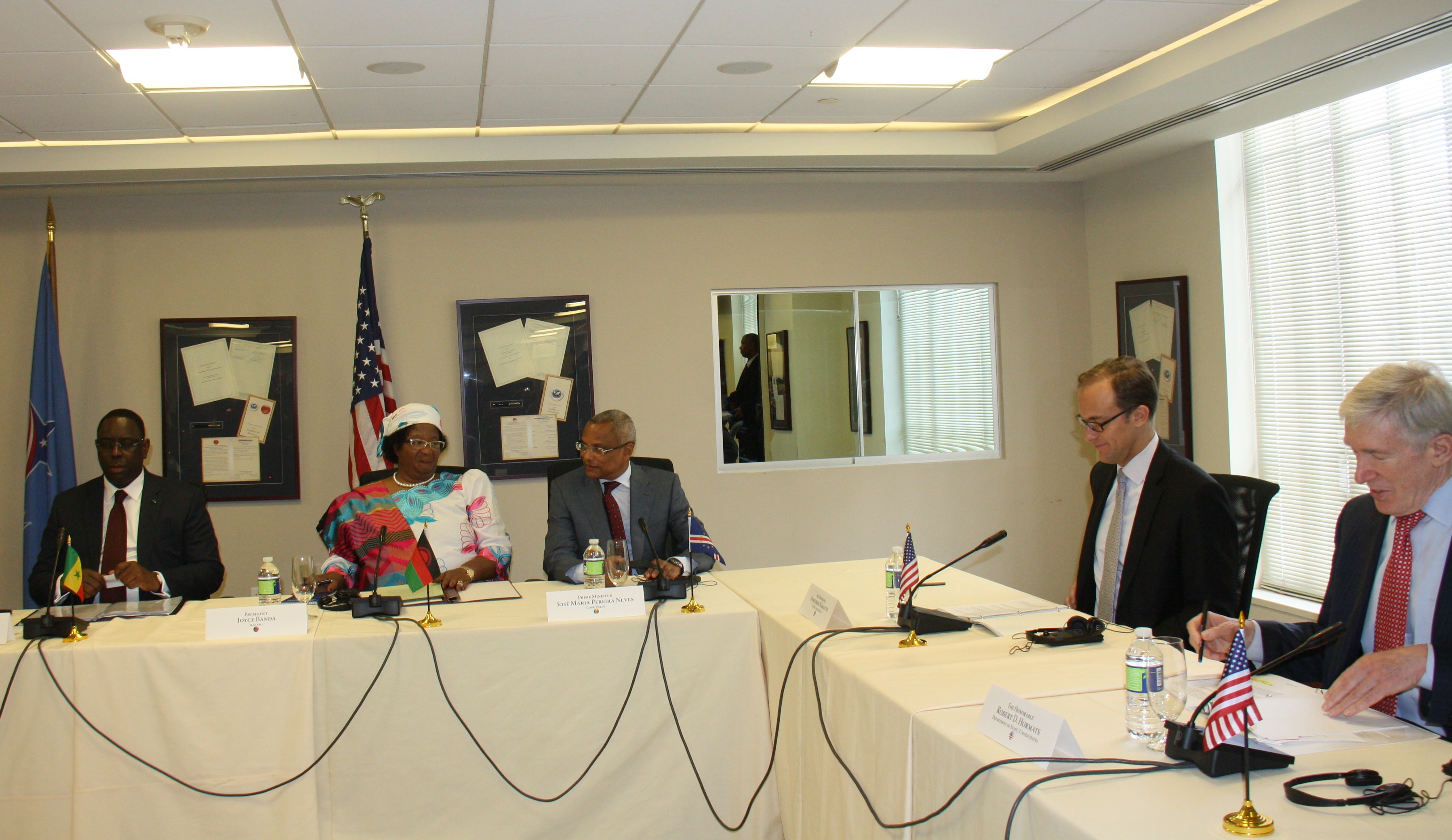 Ambassador Marantis moderates a roundtable with African Heads of State
at the Millennium Challenge Corporation.
The U.S. and West African participants also agreed to pursue a new Trade and Investment Framework Agreement (TIFA) between the U.S. and the Economic Community of West African States (ECOWAS) in order to support West Africa's regional integration and to strengthen U.S. trade and business ties with West African nations.
In addition, the participants identified a number of other concrete actions for follow up that will, as envisioned by the President's Strategy toward sub-Saharan Africa, spur economic growth, trade, and investment with these four sub-Saharan African partners.