By Clare Quinn, Office of Intergovernmental Affairs and Public Engagement
During this week's first Transatlantic Trade and Investment Partnership (TTIP) negotiating round, the Office of the United States Trade Representative (USTR) hosted a series of stakeholder engagement events to ensure that multiple perspectives and a balance of views inform U.S. negotiating positions. Approximately 350 global stakeholders gathered on Wednesday for a series of outreach events, including the direct stakeholder engagement event, stakeholder presentations, and a briefing by the Chief Negotiators from the United States and European Union. Negotiators took a break from their discussions to meet with and listen to presentations by approximately 50 stakeholders representing industry, small businesses, academia, labor unions, environmental groups, and consumer advocacy organizations. Stakeholders and negotiators traded insights and shared opinions in the open and productive forum. Stakeholders were also able to ask questions and share briefing materials with negotiators and other participants. Ambassador Froman stopped by the session to listen and share perspectives with stakeholders.  To view the schedule of presentations, please click here.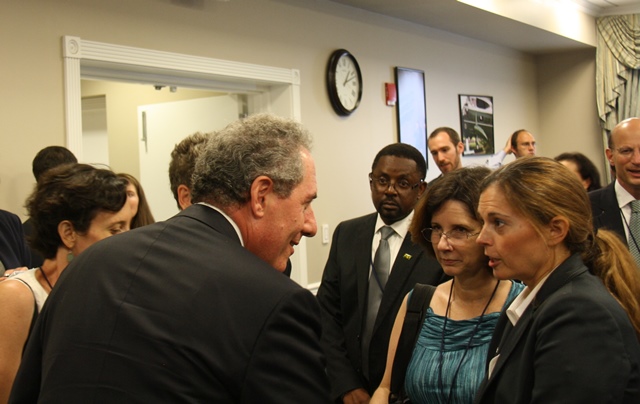 United States Trade Representative Michael Froman greets stakeholders at yesterday's events.
Later that afternoon, Chief U.S. Negotiator Dan Mullaney and Chief EU Negotiator Ignacio Garcia-Bercero briefed the assembled stakeholders and took questions on the progress made during the first days of the negotiation. In his remarks, Mullaney emphasized the economic benefits of the agreement; in addition to promoting international competitiveness and growth, the TTIP is expected to add to the more than 13 million American and European Union jobs already supported by transatlantic trade and investment. For a full list of the organizations that participated in these events, please click here. 
Over the last several months, U.S. trade negotiators have consulted closely with Members of Congress, cleared advisors, trade stakeholders, and members of the public about U.S. negotiating positions for the TTIP agreement, and USTR will continue to engage with and seek feedback from those constituencies throughout the negotiation. Discussing a broad set of views is critical to helping negotiators produce a comprehensive and ambitious agreement that benefits both parties, reflects our values, and leads to even more economic growth. 
For further information on the TTIP negotiations, please visit www.ustr.gov/ttip.