You are here
Timothy Reif
Senior Advisor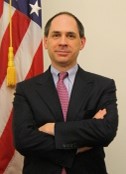 Timothy M. Reif is responsible for compliance with and enforcement of all U.S. trade and investment agreements, including in areas such as cross border data flows and financial services, intellectual property, and a wide range of manufactured and agricultural products; advises the U.S. Trade Representative and other senior Administration officials on all global compliance, investment and regulatory matters, as well as development of legislation, legislative initiatives and strategy; oversees all administrative law and government ethics matters; and, leads and manages the 50+ person Office of General Counsel.
Mr. Reif comes to USTR with broad and deep experience from both the private and public sectors in international regulatory and transactional law, policy and negotiations.  Immediately prior to his current appointment, Mr. Reif served as Chief International Trade Counsel for the Committee on Ways and Means in the U.S. House of Representatives, where he advised on the regulation of all international trade, investment, regulatory and economic matters, and related legislation.  Prior to this appointment, he worked as Special Trade Counsel in private law practice, advising global companies on compliance issues and ways to address foreign regulatory barriers in their global operations and export transactions.  Mr. Reif previously served as Associate General Counsel in the Office of the U.S. Trade Representative, where he was lead USTR negotiator for key provisions of the Uruguay Round Agreements and the North American Free Trade Agreement (NAFTA), as well as a number of bilateral agreements such as the U.S.-Japan Semiconductor Agreement (1991).  Mr. Reif also litigated or supervised the litigation of numerous disputes.  Mr. Reif has held teaching positions at Princeton, Columbia Law School and Georgetown Law School.
Mr. Reif received his Juris Doctor from Columbia Law School and his Master of Public Affairs and Bachelor degrees from Princeton University.  He is married to Desiree Green and they are the parents of Paul, Anna, Sarah and Clare.